In this article, we are comparing the Mongoose Malus Adult Fat Tire Mountain Bike and the Mongoose Dolomite Adult Fat Tire Mountain Bike.
We picked these two models to compare because they are both fat-tire all-terrain mountain bikes produced by the same brand. So in that sense, Mongoose Malus and Mongoose Dolomite share quite a few similarities. However, they also differ in some pretty important areas like the weight and type of frame.
In the end we decided Mongoose Malus to be the superior model. In our decision process, we relied on the feedback and reviews of numerous fellow bikers who rode these bikes and our own experience with MTBs.
At a Glance
We decided Mongoose Malus is a better model than Mongoose Dolomite mainly due to the Malus' lower weight. When you take a look at the two models' specs below, you will see that the Dolomite model is more than 10 pounds heavier than the Malus model. This means it's more difficult to accelerate on Dolomite and the biker spends more energy to go the same distance than he would on the Malus.
Malus is the newer generation of fat tire bikes from the Mongoose brand whereas Dolomite is the older generation. So it's not hard to assume the brand probably had the same idea about weight and energy efficiency.
We also picked Malus as the winner because of the extra comfort it provides compared to Dolomite. Malus comes with a supersized 18-inch beach cruiser frame, which allows for a casual and comfortable riding position compared to the more traditional 17-inch MTB frame of the Dolomite.
Below we listed some of the key features of the two bikes:
Mongoose Malus
18-inch steel frame
26 x 4-inch knobby fat tires
7-speed rear derailleur
Front and rear mechanical disc brakes
Rigid Fork
Fits riders 5'4" to 6'2" tall
Weighs around 37.5 pounds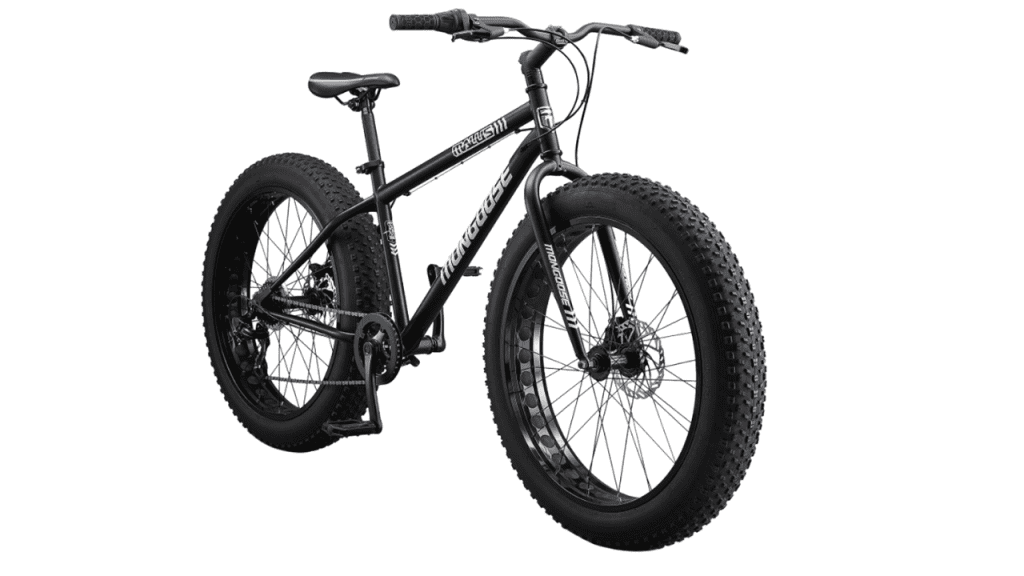 Mongoose Dolomite
17-inch steel frame
26 x 4-inch knobby fat tires
7-speed rear derailleur
Front and rear mechanical disc brakes
Rigid Fork
Fits riders 5'6" to 6' tall
Weighs around 50 pounds
The two bikes are actually very similar to each other in many ways. Both models are 7-speed fat-tire MTBs by Mongoose. Both come with front and rear mechanical disc brakes and both models have a rigid fork.
We will now lean into the areas where they differ, namely the weight and bike frame. Keep on reading to see how they compare!
Mongoose Malus vs Mongoose Dolomite Comparison
Weight
The main difference between Mongoose Malus and Mongoose Dolomite is weight. Mongoose Malus is much lighter and weighs around 37.5 pounds whereas Mongoose Dolomite weighs around 50 pounds.
Seeing as both bike frames are made of steel, this drastic difference in weight is mainly driven by the different tires the two models come with. The Mongoose Dolomite comes with a much heavier set of tires, increasing the overall weight of the bike.
Now let's talk about the implications of having a heavier bike versus a lighter one and attempt to answer the question: which is better?
We firmly believe that for a mountain bike, a lighter model is more advantageous than a heavier one. The key difference is that it's much easier to accelerate on a light bike compared to a heavy bike and less energy is spent on covering the same distance when riding a lighter model.
This saving of energy is crucial especially when you're out on the trail in the elements. Mongoose must have had the same idea when they shed the extra weight of Dolomite bikes while creating the newer generation Malus models.
Given the higher performance of lighter Malus models due to their easier acceleration and energy efficiency, we declare Mongoose Malus the winner of the weight category.
Winner: Mongoose Malus
Frame
Another key difference between the two models is the bike frame. While both are all-terrain MTBs meant for the trails, the 18-inch frame of Mongoose Malus has more of a supersized beach cruiser design.
This allows for more clearance and a more relaxed riding position compared to the 17-inch Mongoose Dolomite frame, which is more of a traditional MTB frame. You can ride your Mongoose Malus on fairly rough terrains and you can also take it out for a casual ride thanks to its frame's cruiser design.
Since the Mongoose Malus' cruiser frame provides a more comfortable riding experience and more versatility compared to the Dolomite model, we have to declare Mongoose Malus as the winner of the frame category as well.
Winner: Mongoose Malus
Mongoose Malus vs Dolomite: The Winner
After reviewing both models and their specifications, we picked Mongoose Malus as the winner against Mongoose Dolomite. Brands often improve on previous models in creating the newer generation of a product and that is what we see with Dolomite and Malus as well.
The lower weight of Mongoose Malus results in significant energy efficiency for the rider, which is crucial for endurance on rough terrains. On a lighter bike, the rider spends less energy accelerating and covering distances compared to riding a heavier model.
In our opinion, both models are great fat-tire MTBs for all-terrain riding but if you could have the added benefits of riding a lighter bike, that would obviously be a considerable boost to your rides.
Malus also offers a more comfortable riding experience due to the extra clearance its 18-inch cruiser frame provides.
Feel free to check out both of these bikes on Amazon for more details and order your own MTB today!