In this article we are comparing the Mongoose Malus Adult Fat Tire Mountain Bike (18-inch frame) and the Mongoose Argus Trail Adult Fat Tire Mountain Bike (18-inch frame).
We picked these two models to compare because they are both fat-tire MTBs meant for all-terrain trail riding from the same brand. We are specifically comparing the 18-inch frame versions of Mongoose Malus and Mongoose Argus Trail for the sake of consistency. When we mention Mongoose Malus and Mongoose Argus going forward in the article, know that we are referring to these bikes.
We have relied on the experience, feedback and reviews of numerous users as well as product specs of the two bikes in this article. We also thought about our own experience with MTBs and came up with a list of features that we look for in MTBs. This general criteria helped us decide which Mongoose bike is better than the other.
At a Glance
We picked Mongoose Malus as the superior bike due to its steel frame, which is more durable and tensile compared to the aluminum frame of Mongoose Argus. This means the steel frame of Mongoose Malus is better at enduring blows without compromising its structure and it also allows for less bumpy rides.
The Mongoose Argus has a lighter aluminum frame, which is good for speeding purposes, and it also comes with a superior gearing system. We picked Mongoose Malus because we think durability and flexibility are more important than speed for MTB purposes and upgrading the gearing on Mongoose Malus is a quick fix if necessary.
If you think speed is important when riding on trails and appreciate a higher number of speeds in your gearing then Mongoose Argus might be the superior option for you. If you're like us and look for durability and relatively smooth riding in your MTB, then Mongoose Malus is the better model.
Below we listed some of the key features of the two bikes:
Mongoose Malus
18-inch steel frame
26 x 4-inch knobby fat tires
7-speed rear derailleur
Front and rear mechanical disc brakes
Rigid Fork
Fits riders 5'4" to 6'2" tall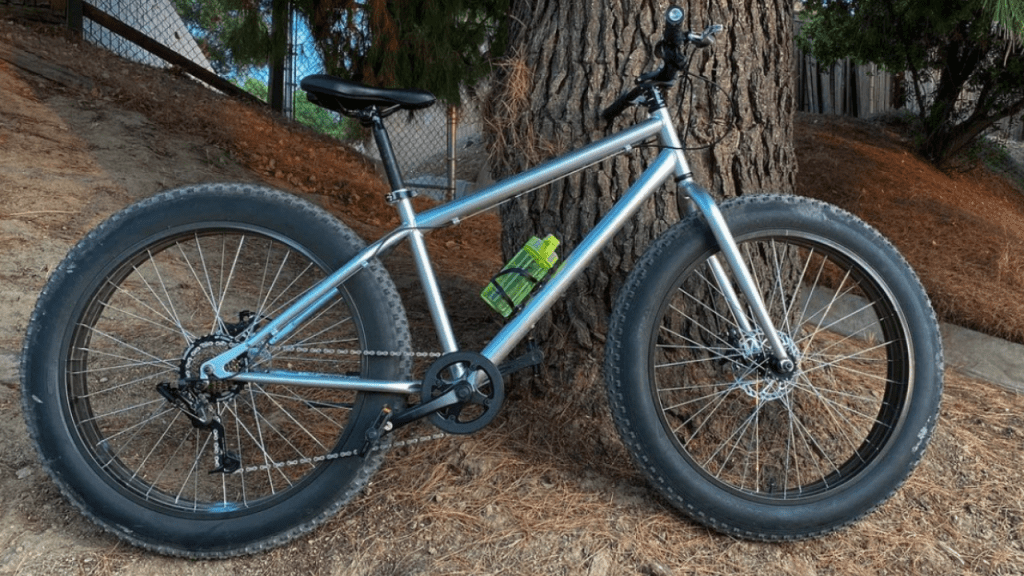 Mongoose Argus
18-inch aluminum frame
26 x 4-inch knobby fat tires
2 x 8 front and rear derailleurs (16-speed total)
Front and rear mechanical disc brakes
Rigid Fork
fits riders 5'6" to 5'10" tall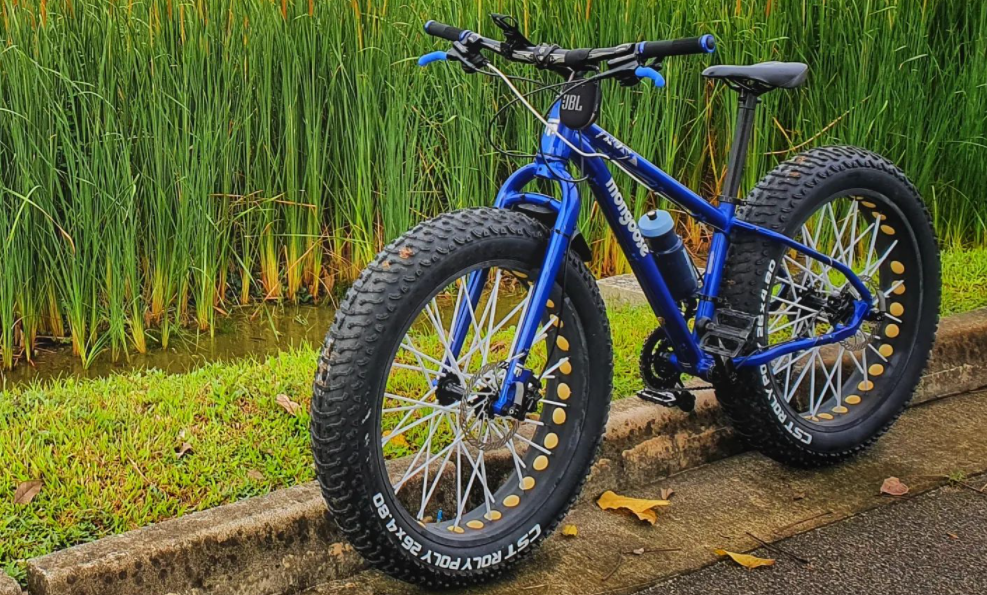 As you can see the two models are very familiar to each other except for a couple of key differences, including material of the frame and gearing. That's why we are providing a detailed comparison of these two bikes in the frame material and gearing categories. Keep on reading if you want to learn more about how they compare!
Mongoose Malus vs Argus Comparison
Material
Material of the frame is really the main difference between these two bikes. The Mongoose Malus bike comes with a steel MTB frame whereas the Mongoose Argus bike comes with an aluminum MTB frame.
For the purposes of an MTB/trail bike, we prefer steel over aluminum. Steel is more durable and sturdier than aluminum, which is an advantage when you're out riding on rough terrains.
Steel is also a material that can flex and absorb bumps and blows better than aluminum. This quality makes rides more comfortable and smoother especially on unpaved trails with small rocks.
Aluminum frames offer a more stiffer ride because they don't flex like steel frames do. This means less momentum lost, which is better for speeding purposes. Aluminum is also lighter than steel. This is another advantage when you're trying to go as fast as possible. If speed is your main concern aluminum wins against steel.
For an MTB/trail bike however, being able to withstand impact and ability to absorb small bumps are the most important qualities in our humble opinion. (That is assuming you will not be entering competitions or races with your MTB). So the winner in the material category would be the Mongoose Malus bike, which has a steel frame.
Winner: Mongoose Malus
Gearing
Another major area where the Mongoose Malus and Mongoose Argus bikes differ is the gearing. The Mongoose Malus is a 7-speed MTB with a rear derailleur, whereas the Mongoose Argus comes with 2 x 8 front and rear derailleurs.
Comparing the two is a bit tricky because both gearing systems have their pros and cons. We actually like fewer gears on mountain bikes because that means easier maintenance and it helps keep the weight down.
The lack of a front derailleur also means less moving parts and a lower possibility of branches or roots getting caught on things. This is a big advantage when you're out there riding in the elements.
Based on the above information alone, Mongoose Malus would be the clear winner. However, there's a downside to the gearing system on the Mongoose Malus model. The 1st speed is a bit tough on a heavy bike like this when you're cycling over hills.
So if you expect to tackle long climbs with your Mongoose Malus, you might have to upgrade the gears to a megarange freewheel. Otherwise the climbs will be quite challenging.
Given this downside to the gearing on Mongoose Malus, we have to declare Mongoose Argus the winner of the gearing category.
Winner: Mongoose Argus
Mongoose Malus vs Argus: The Winner
We declare the Mongoose Malus MTB as the overall winner compared to the Mongoose Argus bike. We like that it comes with a sturdy steel frame which can better endure impact when you're out there in the elements. Steel can also flex more compared to aluminum which means it can better absorb bumps, allowing for smoother rides.
If you care a great deal about speed then the relatively lightweight Mongoose Argus might be the better model for you. It comes with a lighter aluminum frame and it's a 16-speed model.
As we mentioned, the one downside to the 7-speed Mongoose Malus is that the 1st gear on it is quite tough on uphill climbs. However, we believe the frame is a more important factor since the gearing can be upgraded easily whereas that's not really the case for the frame.
Both of these fat tire MTBs are good options for all-terrain riding and tackling challenging trails. It essentially comes down to which you value more: durability or speed.