In this article we are comparing the Mongoose Hitch Fat Tire Mountain Bike and the Mongoose Dolomite Fat Tire Mountain Bike. (Mongoose Hitch vs Dolomite)
We think it makes sense to compare these two models because they are both fat-tire mountain bikes produced by Mongoose and meant for all-terrain riding.
We additionally believe them to be good entry-level fat tire MTBs since they're relatively affordable as far as fat-tire MTBs go and you get good value for your money. So if you're new to the world of fat-tire MTBs and want to try your hand at one without breaking the bank, Mongoose is probably one of the first brands to check out.
Looking at these two models specifically, we actually found them to be very similar. The one key area they differ is weight. Since Mongoose Hitch weighs about 10 pounds lighter than Dolomite, we decided it is the superior model.
In our analysis, we relied on our own experience with MTBs, customer reviews and feedback from our fellow bikers. Keep on reading to see specs and a more in-depth analysis comparing the two models.
At a Glance
We decided the Mongoose Hitch is a better model than the Mongoose Dolomite due to its lower weight, which is really the only key difference between the two.
When you look at the specs below, you will see that Hitch and Dolomite are very similar to each other. They are both fat tire MTBs with steel frame and 4-inch wide knobby fat tires. Both come with front and rear mechanical disc brakes and 7-speed rear derailleur.
A lot of people like to go for Mongoose MTBs because they're quite affordable compared to other fat tire MTBs. This is especially beneficial for beginners who don't know if they'll become hard-core mountain bikers yet.
Some more experienced riders like that you can purchase them for a fairly affordable price and even if you are not getting the highest grade components, you can customize/upgrade/replace parts as you go.
That is all to say, Mongoose fat-tire MTBs are quite popular and we certainly understand the appeal. In this article, we analyze how Mongoose Hitch and Mongoose Dolomite differ from each other, namely the difference in their weights.
To see a list of both models' specs, see below.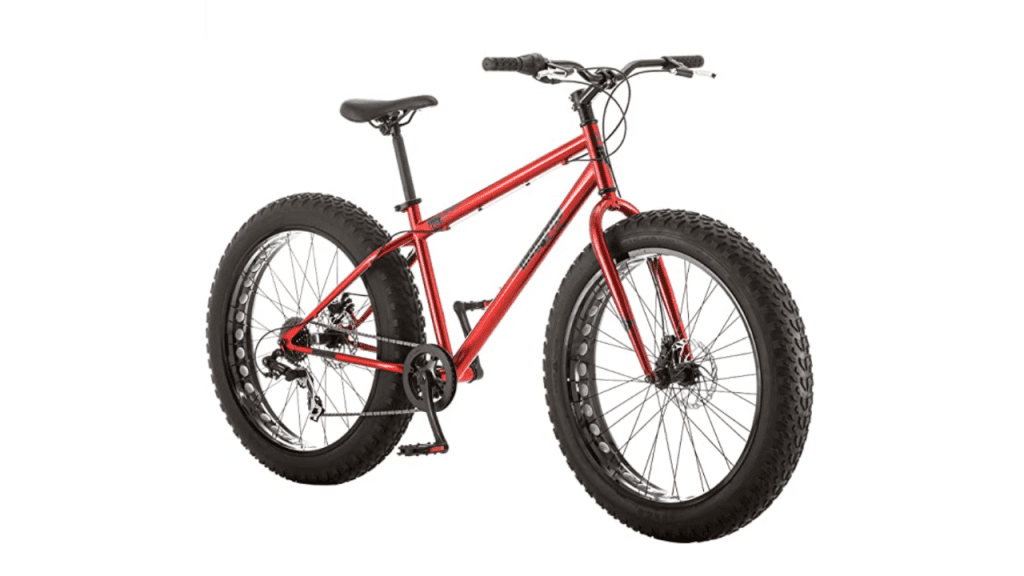 Steel frame
26 x 4-inch knobby fat tires
7-speed rear derailleur
Front and rear mechanical disc brakes
Rigid Fork
Fits riders 5'3" to 6'2" tall
Weighs around 40 pounds
Mongoose Dolomite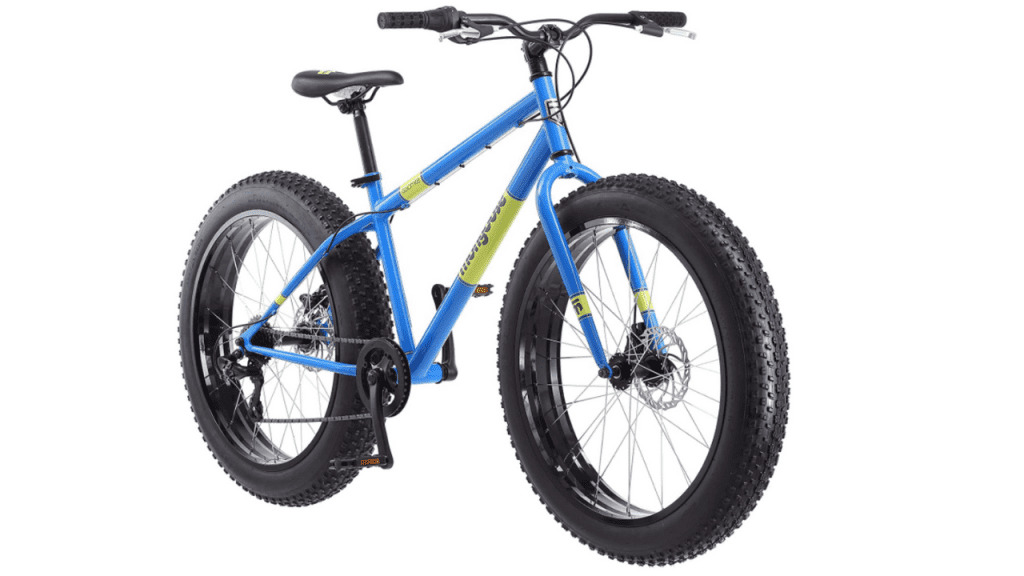 Steel frame
26 x 4-inch knobby fat tires
7-speed rear derailleur
Front and rear mechanical disc brakes
Rigid Fork
Fits riders 5'6" to 6' tall
Weighs around 50 pounds
Keep on reading to see a more in-depth analysis of how they compare in weight and why that's important!
Mongoose Hitch vs Mongoose Dolomite Comparison
Weight
Weight is really the only key feature where these two bikes significantly differ. While both of these models are Mongoose fat tire mountain bikes meant for all-terrain riding, the Mongoose Hitch is about 10 pounds lighter than Mongoose Dolomite.
As you can see from the specs outlined above, Mongoose Dolomite weighs around 50 pounds whereas Mongoose Hitch weighs roughly 40 pounds.
You can also see that both of these models come with steel frames. The difference in weight is mainly attributed to Hitch's lighter rims and tires.
Mongoose Dolomite comes with a fairly heavy set of tires, increasing its overall weight. Mongoose Hitch also has some frame design improvements the Dolomite doesn't have.
Now let's talk about what the difference in weight means for you as the rider. A lighter bike is beneficial for preserving your energy and your endurance on the trails.
A lighter bike takes less effort and time to accelerate and it takes less energy to cover the same distance compared to riding a heavier model.
This energy efficiency is crucial, especially if you're riding on rough terrain out there in the elements. You don't want to be struggling physically 10 minutes into your ride and you certainly want to be able to handle climbs without exerting yourself too much.
The Mongoose Hitch helps you preserve more energy thanks to its lower weight and that is why we crown it the winner in the weight category (and consequently the winner overall).
Winner: Mongoose Hitch
Mongoose Hitch vs Dolomite: The Winner
After reviewing both models and their qualities, we picked Mongoose Hitch as the winner compared with the Mongoose Dolomite.
The lower weight of Mongoose Hitch is an advantage for energy efficiency and, as a result, the endurance of the biker on long rides. It takes less effort to accelerate and cover long distances on lighter bikes compared to heavier bikes.
Other than the two bikes are actually very similar and if you're leaning towards purchasing one you might as well look at the other since they are so similar.
So feel free to check out both of these bikes on Amazon for more details and order your own MTB today!