This is our review for the best hybrid bikes under 1000 Dollars in 2022.
Based on our experience with owning hybrid bikes and the review of other cyclists we found Trek FX 2 to be the best hybrid bike under $1000.
However, we also included 3 other categories and other bikes in our list to give you some options.
While compiling this list we looked at several factors including the price tag, durability, performance, and comfortless of these bikes. Our research included reviewing various components including the frame, wheels, suspension, gearing, handlebar, and saddle among others. We also went through the reviews left by hundreds if not thousands of other users to get a sense of which hybrid bikes are the best.
We eventually decided Trek FX 2 as the best hybrid bike under $1000 due to its strong disc brakes, light weight aluminum frame, elegant design, fast and steady tires.
Feel free to keep on reading for more detailed information on this bike and 4 others! We hope some of these bikes speak to your personal preferences and offer what you are looking for in a hybrid bike.
Our Picks for Best Hybrid Bikes Under $1000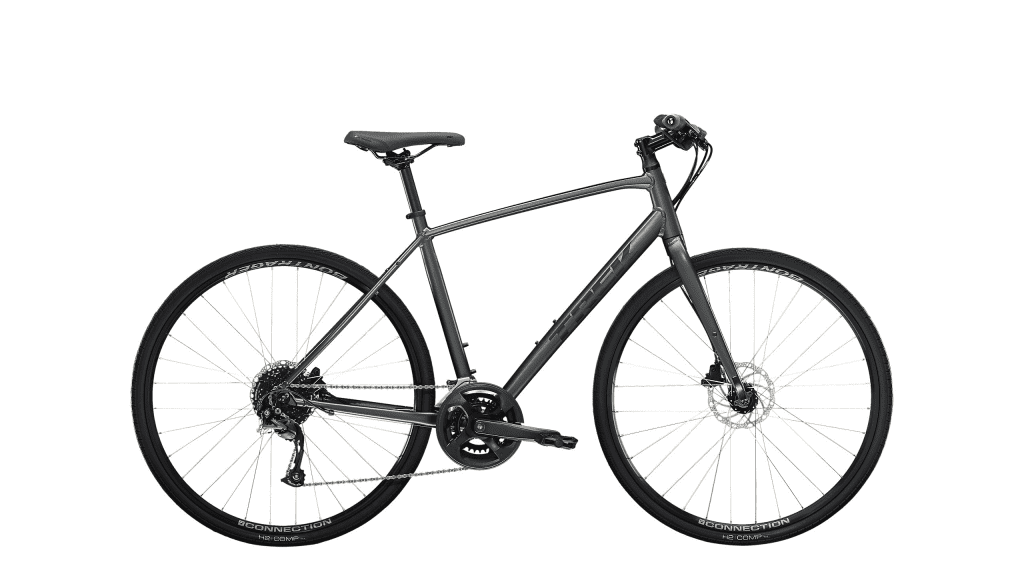 Best Hybrid Bike Under 1000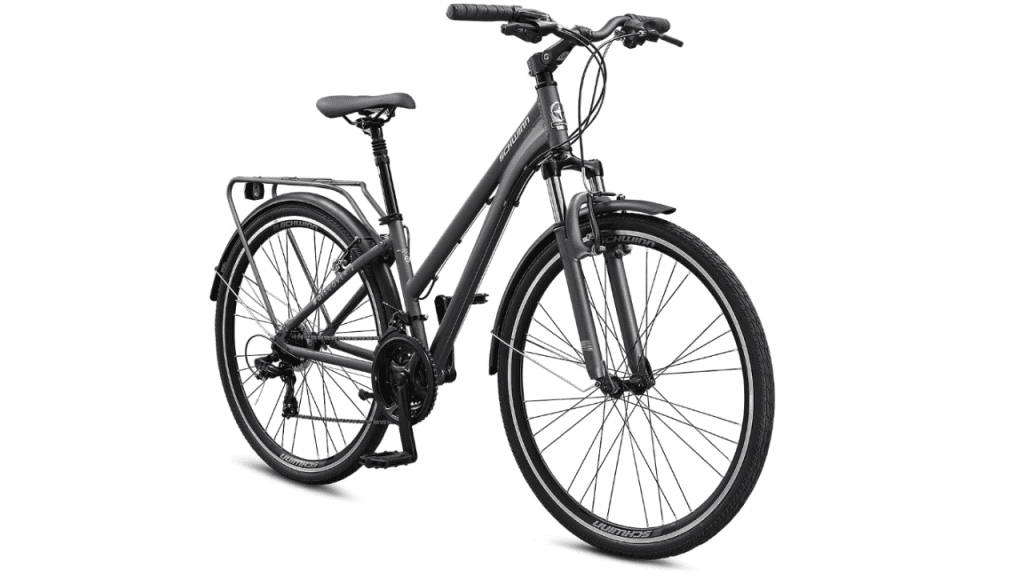 Schwinn Discover 2 Hybrid Bike for Men and Women
#2 Best Hybrid Bike Under 1000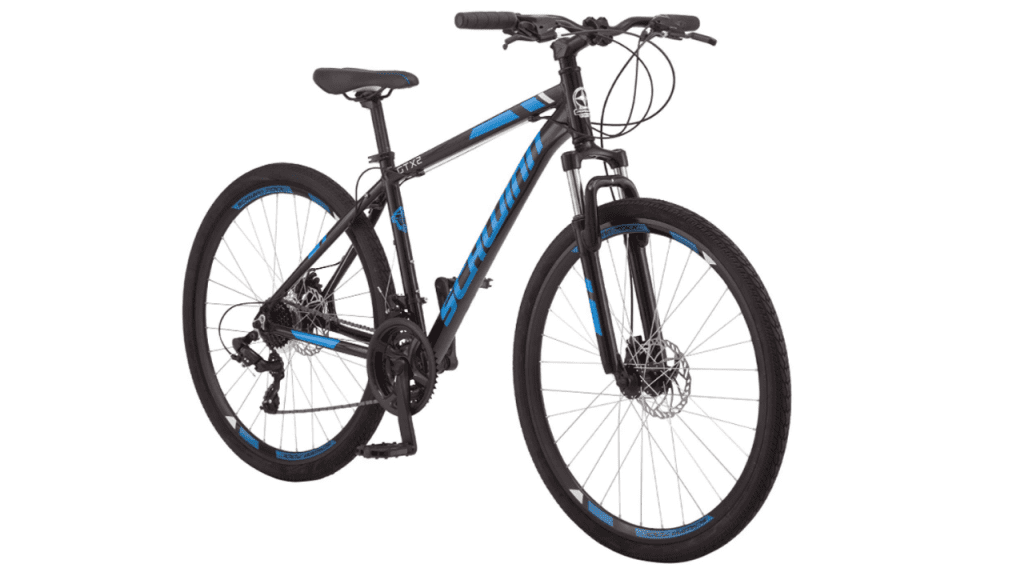 Schwinn GTX 2 Comfort Adult Hybrid Bike
Best Hybrid Bike for Urban Ride under 1000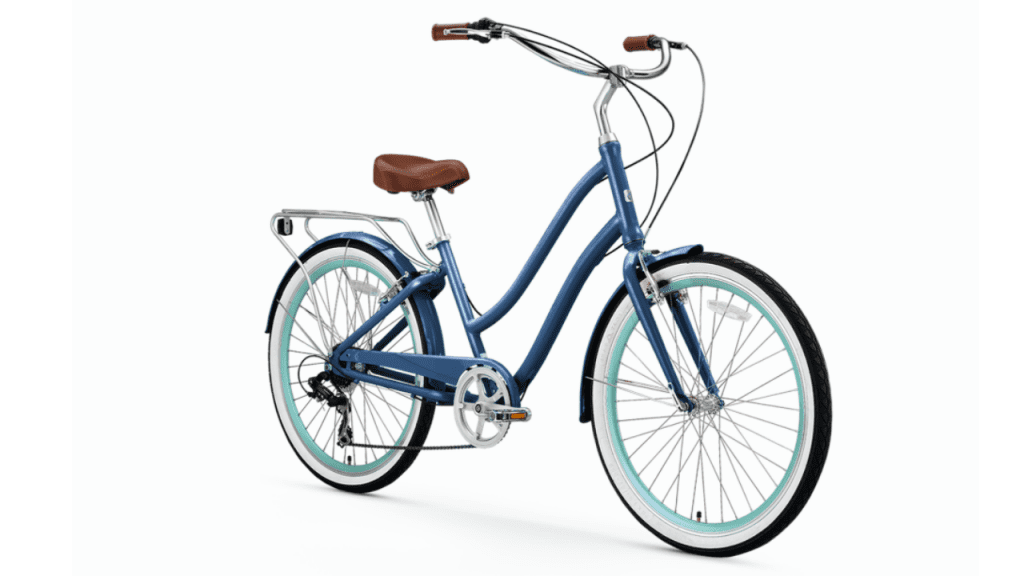 sixthreezero EVRYjourney Women's Step-Through Hybrid Cruiser Bicycle
Best Hybrid Bike for Women under $1000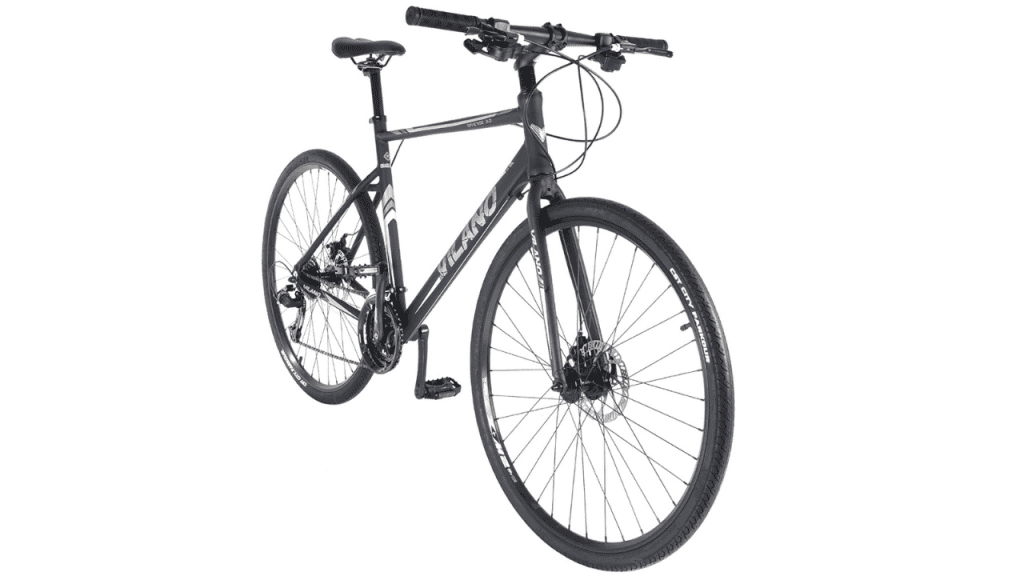 Vilano Diverse 3.0 Performance Hybrid Road Bike 24 Speed Disc Brakes
Best Hybrid Bike for Value Under 1000
Trek FX 2 Disc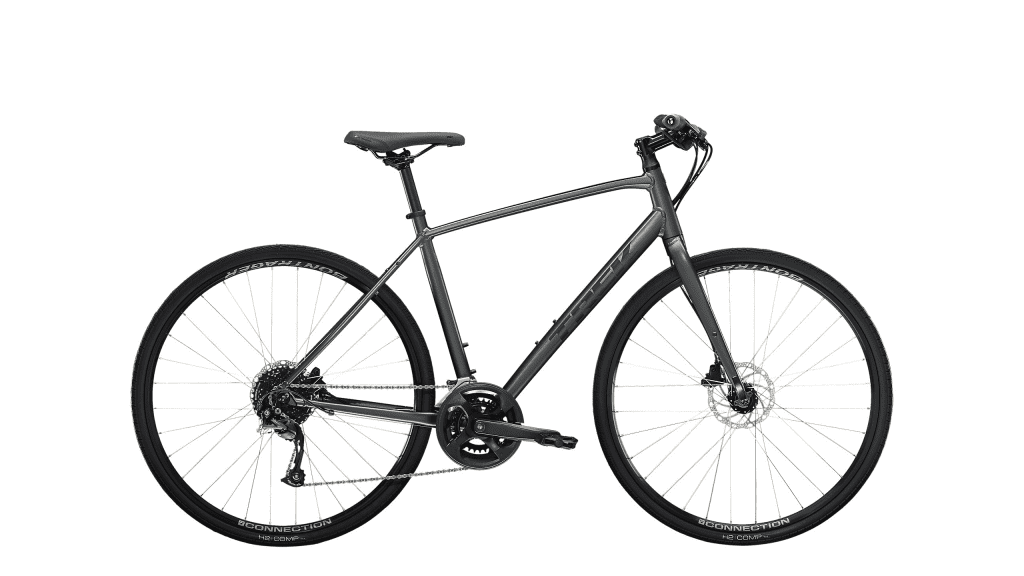 Key Features
Hydraulic disc brakes
Internal cable routing
Blendr stem
DuoTap S compatible
Shimano HG200, 11-36, 9 speed
Our Review
Per my research Trek FX 2 Disc is the best hybrid bike under 1000 dollars. The Trek FX 2 is a great hybrid bike for recreational riders and commuters. The lightweight aluminum frame and responsive handling make it easy to maneuver through city streets, while the front suspension and wider tires provide a smooth ride on light trails.
The Trek FX 2 Disc can handle various types of rides, whether it's a training session, running errands, or commuting. It is customizable with a variety of accessories. However, its standout feature is the disc brakes, which offer exceptional stopping power regardless of the weather conditions.
Trek FX 2 Disc bike is also DuoTrap S compatable. DuoTrap S enables you to track your fitness progress as well as log routes.
This bike model of Trek FX 2 comes in 5 different sizes and can accommodate riders from 4'10" to 6'8″ you can look refer to the chart below to figure out what bike size would fit you the best.
| Size | Rider Height | Inseam |
| --- | --- | --- |
| XS | 147 - 155 cm | 69 - 73 cm |
| XS | 4'10" - 5'1" | 27" - 29" |
| S | 155 - 165 cm | 72 - 78 cm |
| S | 5'1" - 5'5" | 28" - 31" |
| M | 165 - 175 cm | 77 - 83 cm |
| M | 5'5" - 5'9" | 30" - 33" |
| L | 175 - 186 cm | 82 - 88 cm |
| L | 5'9" - 6'1" | 32" - 35" |
| XL | 186 - 197 cm | 87 - 93 cm |
| XL | 6'1" - 6'6" | 34" - 37" |
| 2XL | 197 - 203 cm | 92 - 95 cm |
| 2XL | 6'6" - 6'8" | 36" - 37" |
Pros
Can carry up to 300 lbs
Free shipping
Suitable for daily commute
Strong stopping power
Cons
Schwinn Discover 2 Hybrid Bike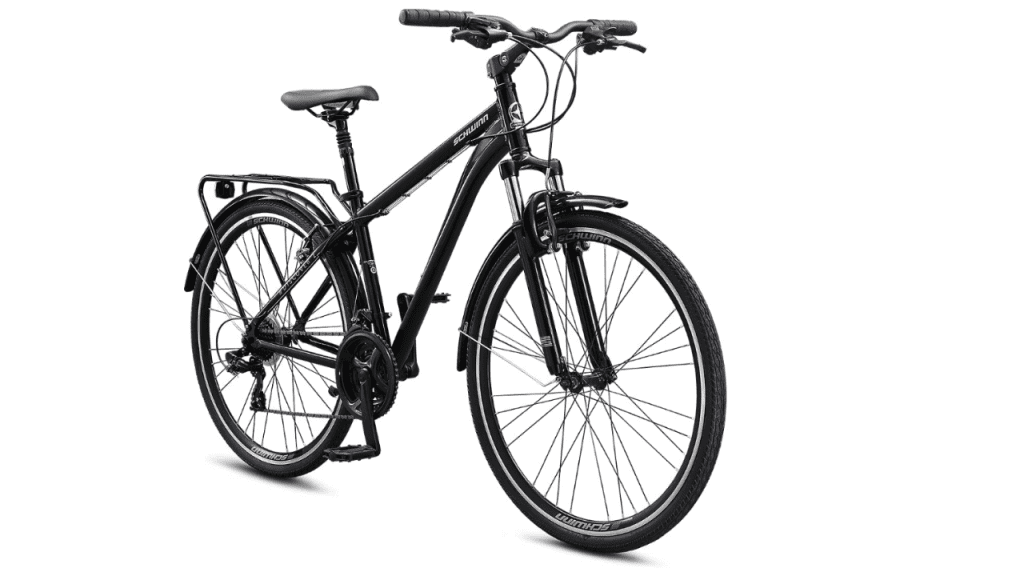 Key Features
17-inch alloy frame
21-speed rear derailleur
700C wheels
Front suspension
Suspension seat post
Alloy linear pull brakes
Fits riders 5'7″ – 5'10″
Weighs 43 lbs
The best hybrid bike under $1000 per our research is the Schwinn Discover 2 Hybrid Bike. This bike model of Schwinn features an alloy hybrid frame with fit geometry and a suspension fork for a flawless ride.
This bike's 21-speed rear derailleur offers precise shifts and it's good to have if you are cycling on upward-sloping streets.
Schwinn Discover 2 Hybrid Bike comes with a rear cargo space which makes it a good fit for urban riding as you may use it to carry your backpack while going to work/school or the groceries you buy on a weekly basis.
Its fenders protect its rider's clothes from any dirt and make it a good bike for rainy days and rough roads.
Some buyers commented that it took a while for them to receive their order due to supply chain issues. The bike doesn't come with all the tools necessary to assemble it and we would highly advise fine-tuning by an expert as some of the screws and the chain might require adjustment.
Pros
Front suspension to absorb small bumps
21-speed trigger shifters to make climbs easier
Fenders to keep mud off rider
Rear rack for cargo
linear pull brakes provide reliable stopping power
Comfortable saddle
Cons
Long lead time
Built for a tall person
---
Schwinn GTX 2 Comfort Adult Hybrid Bike, Dual Sport Bicycle, Lightweight Aluminum Frame, Multiple Colors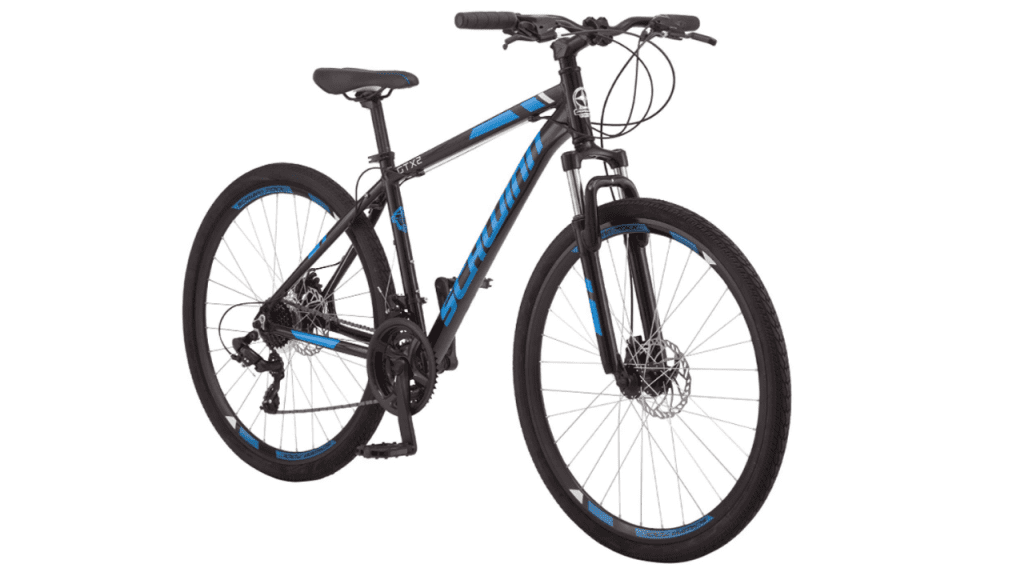 Key Features
18 inch alloy frame
21-speed rear derailleur
700C wheels
Suspension fork
Alloy V-brakes
Fits riders 5'6″ – 6'2″
Weighs 43 lbs
Per our research Schwinn GTX 2 is the best hybrid bike for urban riding for under 1000$. This model is a great combination of road bike, cruiser bike, and mountain bike. This bike model is a multi-purpose bike that you can ride around the city, go to market with it or ride to get to work.
Schwinn suspension fork ensures a stable ride as it absorbs the bumps on the road. the 21-speed trigger shifter makes it a good fit for not only straight roads but also uphill rides. This model of Schwinn with its mechanical disc brakes on the front and the rear side of the bike enables great speed control. The only disadvantage of this bike is that it lacks a kickstand also some reviewers have commented that the pedals make a distractive clicking noise.
Pros
suspension to absorb small bumps
21-speed trigger shifters to make climbs easier
durable front rims and versatile tire
Cons
The pedals on the bike make a distractive clicking noise.
---
sixthreezero EVRYjourney Women's 3-Speed Step-Through Hybrid Cruiser Bicycle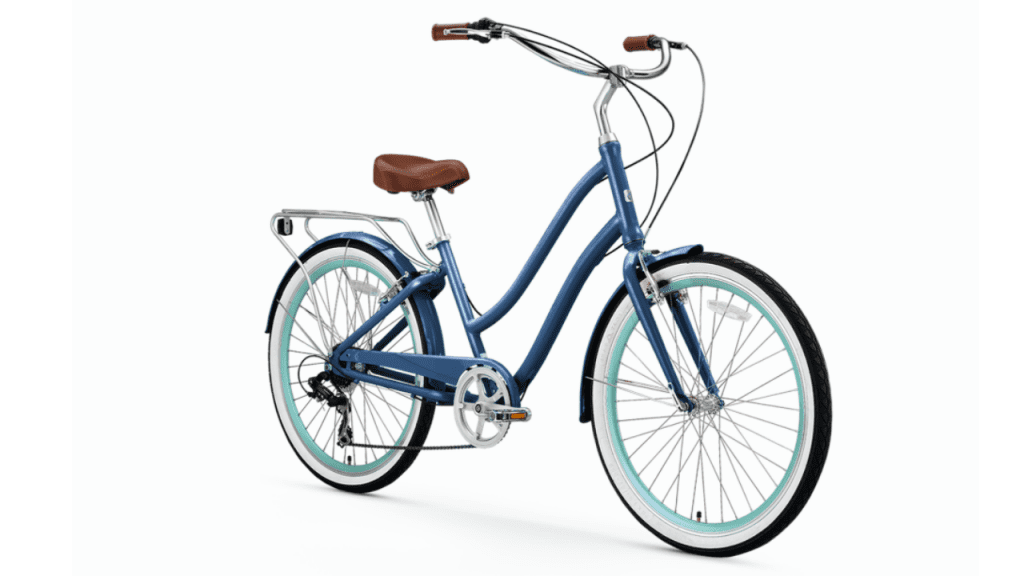 Key Features
14 inch alloy frame
3 speed external derailleur
Rear and front suspension
front handbrake and rear coaster brake
Weighs 35lbs
Our top pick for the best hybrid bike for women under $1000 is the sixthreezero EVRYjourney Women's 3-Speed Step-Through Hybrid Cruiser Bicycle. Sixthreezero presents its every journey model with the motto "one bike, every occasion". This bike model is great for cruising around your neighborhood and on flat surfaces. If you are looking for a bike to climb hills with, the 7-speed models may be a better fit for you. We loved the vintage-looking design it has.
With its semi-slick tires and wide saddle EVRYjourney offers a comfortable ride experience. Its frame design ensures that sitting upright is painless and its step-through frame makes it easier to get on it.
Some riders have commented that the bike is relatively hard to assemble.
Pros
Vintage looking design
26-inch wheels and 2-inch semi-slick tires provide a cushioned, stable ride
Fenders to keep mud off the rider
Lightweight aluminum frame
Comfortable saddle
Soft grips
Cons
Riders having trouble with assembly
---
Vilano Diverse 3.0 Performance Hybrid Road Bike 24 Speed Disc Brakes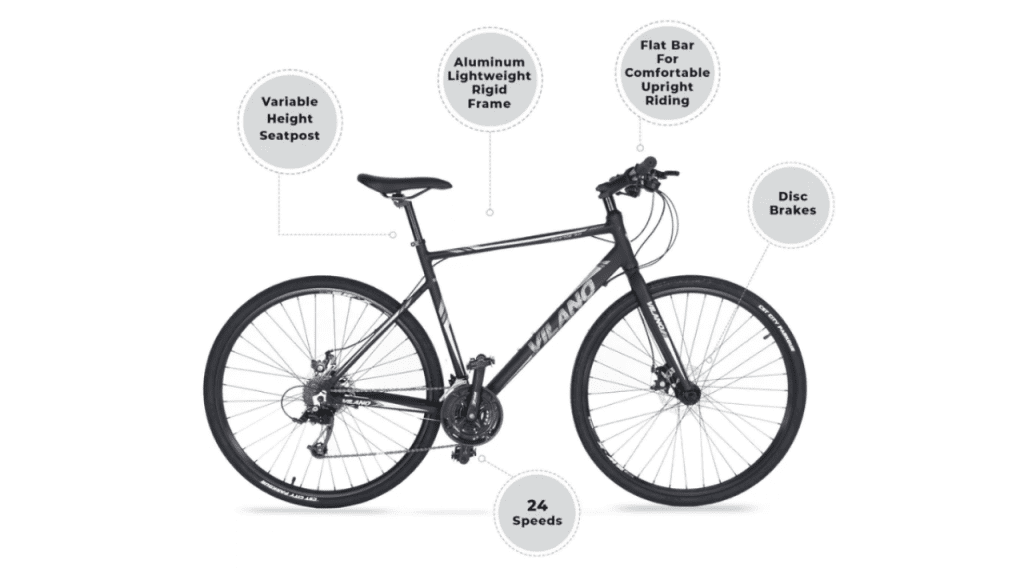 Key Features
19.3/ 20.8/22.4 inch alloy frame
24 speed
700C wheels
Disk brakes
Weighs 26.5 lbs
Our top pick for the best hybrid bike for value under $1000 is Vilano Diverse 3.0 Performance Hybrid Road Bike. Vilano Diverse is one of the top seller hybrid bikes listed on Amazon. This bike model is the lightest model on our list making it a great fit for not only commuting but also for working out as well. The disc brakes provide control and stopping power in several conditions and its upright handle bar provides comfort to its riders.
This bike model is being shipped directly from the manufacturer and assembling (like the other bike models we have listed) is not easy. If you decide to go with this bike we would strongly suggest you visit your local bike shop to ensure that the bike is fine-tuned.
Pros
Aluminum lightweight rigid frame
Variable height seat post
24 speeds
Flat bar
Disc brakes
Cons
Relatively complicated assembly
---
Guide to Buying a Great Hybrid Bike Under $1000
There are many factors to pay attention to when purchasing the best hybrid bike for yourself for under $1000. Here we list the main ones.
Bike Size
While buying a bike It's critical to ensure the bike you are getting fits your size and measurements. Several bike companies specify the kinds of riders their models best fit in terms of the riders' height and/or weight.
If you are looking at a model that doesn't specify a height or weight range, there are bike size calculators you can find online.
For a comprehensive guide on how to take your measurements and find your bike size, head on over to our article titled "How to Find Your Bike Size – The Ultimate Guide" (https://cyclesimply.com/bike-size/).
Material
The material of the bike frame is one of the main features you need to look at when purchasing a hybrid bike. The most commonly found bike materials include steel, aluminum, and carbon fiber.
Steel bikes are the cheapest and very durable but steel is the heaviest material of the three. Aluminum is more lightweight and equally durable but aluminum bikes tend to be more expensive on average. Carbon fiber is the lightest of the three and the most expensive.
Saddle
The quality of a bike's saddle has a huge impact on the comfort level of your rides as a biker. If comfort is an important factor for you, you should go for a bike that has a wide, padded saddle with dual springs. If the saddle is too small or hard, long rides will be especially uncomfortable.
However, compact and firm saddles are better if you wish to accelerate quickly. These types of saddles, found on road bikes, force the biker to exert more of their weight onto the pedals and consequently pedal faster. So it essentially comes down to what matters to you as a cyclist.
Gearing
The type of gearing you should go for very much depends on the kinds of terrains you will be riding on. If you expect to do a lot of uphill climbs on your bike, a bike with a higher number of gears will be optimal for you.
The reason is going to a lower gear when cycling uphill makes the ride less challenging from a fitness perspective. So cyclists appreciate the option to do so on particularly rough climbs, especially if their fitness level isn't very advanced.
If you expect to cycle on flat surfaces and speed is important to you, you should go for a single speed bike or a bike with fewer gears. The reason is you won't necessarily need a wide range of gears, which make the bike heavier when added.
Another aspect to pay attention to is the quality of shifters and derailleurs. These parts should be high quality and allow you to shift easily between gears.
Suspension
Suspension is another vital factor to consider when purchasing a hybrid bike. A bike can have no suspension, just front suspension (also called hardtail) or dual suspension (meaning front and back suspension).
Suspension helps absorb bumps on uneven terrains, making for a more smooth ride. Hybrid bikes typically come with either front suspension or no suspension at all, since they are not really meant for rough terrains and adding suspension forks to a bike increases its weight.
Again, how much suspension you need depends on the kinds of terrains you will go cycling on. If you expect to ride your bike on flat terrains only, you might not need any suspension at all.
Handlebar
The handlebar is a very important component of the bike for achieving comfort and controlling the bike ease.
Hybrid bikes typically have high handlebars, allowing the rider to assume an upright position while cycling. This is one of the main reasons hybrid bikes are some of the most comfortable bikes out there.
So if you're looking for comfort, it's best to go for a bike with a flat handlebar to support an upright riding position. And most hybrid bikes come with this type of flat handlebar.
If speed is more important to you, you should be in a more hunched over position similar to a road bike. This is achieved with a drop handlebar that is more or less aligned with the saddle, allowing you to accelerate faster thanks to the higher aerodynamic performance of this riding position.
Tires
The kind of tires you want on your bike depends on the type of terrain you will be cycling on. You want fat knobby tires that will absorb bumps if you expect to ride on rough terrains with small rocks.
If you think you will mostly ride on even surfaces like flat city streets, and speed is important to you, you need to go for slim tires like those found on road bikes.
Most hybrid bikes will come with tires that are somewhere in between, since they are not designed for riding on rough terrains like fat tire bikes and they are not meant to go as fast as road bikes. The added thickness of tires compared to road bike tires makes rides smoother and more stable.
Brakes
There are two general types of brakes you will see on bikes: rim brakes and disc brakes.
Rim brakes are typically the cheapest option but they tend to wear out over time and may start to perform inconsistently as a result. On the bright side, replacing them is fairly easy.
Rim brakes do not offer as much immediate stopping power as disc brakes do and they are less reliable in wet or muddy conditions. In terms of performance and stopping power only, disc brakes tend to be superior. There are two types of disc brakes: mechanical disc brakes and hydraulic disc brakes.
Mechanical disc brakes are more economical than hydraulic disc brakes. However they do require more manual effort when adjusting the brake pads over time as they wear out.
Hydraulic disc brakes are very responsive so braking takes little effort and it is quick. They are more expensive than mechanical discs to service but they offer the best stopping power and don't wear out as quickly.
FAQ
What are the advantages of hybrid bikes?
The biggest advantage of hybrid bikes is their comfort. These bikes tend to be very comfortable thanks to the high handlebars and wide comfortable saddles. It's ideal for daily rides or commuting in urban areas.
Can hybrid bikes handle rough terrains?
Hybrid bikes combine certain features of road bikes and MTBs. So they can certainly be ridden on light off-road terrains, trails and dirt paths if they are not very challenging. This will of course depend on the type of hybrid bike you are getting as well. Hybrid bikes with dual suspension and thicker, knobby tires will perform better on rocky terrains compared to a hybrid bike with really narrow tires and no suspension. Having said that, hybrid bikes will typically not offer the superior steering capability, comfort and maneuvering MTBs offer on really rough terrains. So MTBs would be highly preferable on exceptionally challenging paths.
How do hybrid bikes compare to cruisers?
Cruisers have a larger focus on durability and comfort. They are heavier due to their thicker tires, which come in handy if you're riding over small debris. Cruisers additionally have larger saddles for extra comfort. Due to cruisers' higher weight however, it's typically more difficult to go fast on them compared to hybrid bikes, which have better performance in terms of speed.
Are hybrid bikes good for commuting?
Hybrid bikes are excellent for commuting. Due to the superior comfort hybrid bikes offer, a lot of commuters choose to go for hybrid bikes. Commuters additionally enjoy the additional features some hybrid bikes come with such as places to mount racks and bags to carry belongings.
Our Verdict
We hope this article was useful for you and gave you some knowledge on how to differentiate a great hybrid bike from an okay one and presented you with some good options.
As you can see, there are plenty of great hybrid bikes out there when you are willing to spend up to $1000. Our top pick Schwinn Discover 2 Hybrid Bike offers a pretty good combination of comfort, performance and durability. If you agree with us on our top pick for the best hybrid bike under $1000, you can buy this model by clicking here. If your budget is below $500 for your new hybrid bike check out our article Best Hybrid Bikes Under 500.
Feel free to check out the other options and reach out to us with comments or questions.
Cycle simply!