This is our review of the best road bikes under 500 Dollars.
Based on our experience with owning road bikes, reviews of my professional cyclist friends, and road bikers around the world, we found the Vilano Shadow 3.0 Road Bike to be the best road bike under 500 Dollars.
However, we also have included 5 other bikes which we believe are great bikes in the market and are under $500.
While compiling this review we have considered several factors including but not limited to the price tag, frame material, brake types, tire types, gearings, handlebar, and saddle. We also went through the reviews left by hundreds of other users to get a better understanding of which road bikes are the best.
We eventually decided on Vilano Shadow 3.0 Road Bike as the best road bike under $500 because of its light but durable frame, internal cable routing, and seamless gear shifting. In addition, to these its steel fork and durable suspensions ensure smooth rides.
Feel free to keep on reading for more detailed information about Vilano Shadow 3.0 Road Bike and 5 other best road bikes under 500 dollars. We hope that some of the bikes we listed would match what you are looking for in a road bike and your personal taste.
Best Road Bikes under $500
#2 Best Road Bike Under 500 Dollars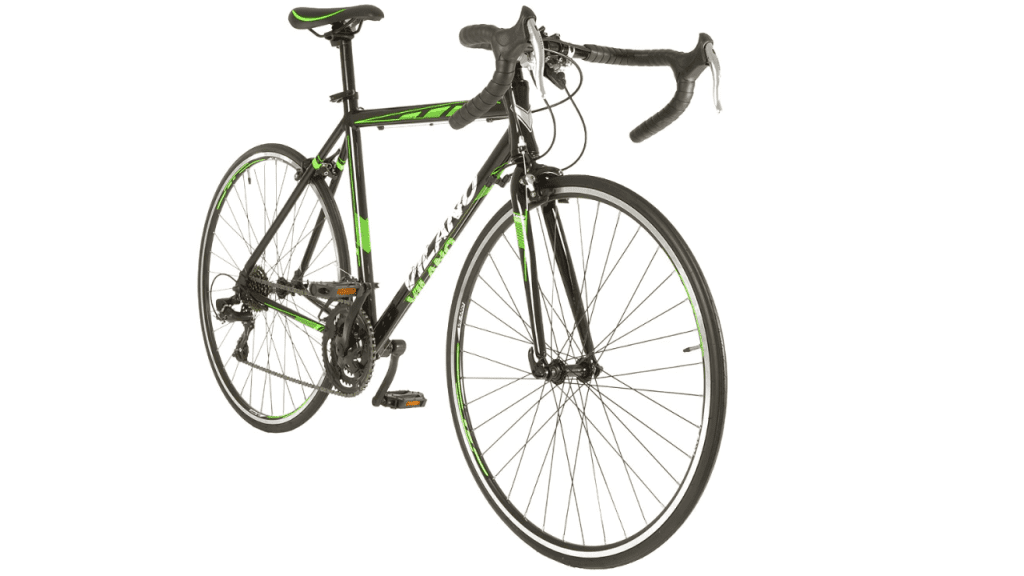 Vilano R2 Commuter Aluminum Road Bike
#3 Best Road Bike Under 500 Dollars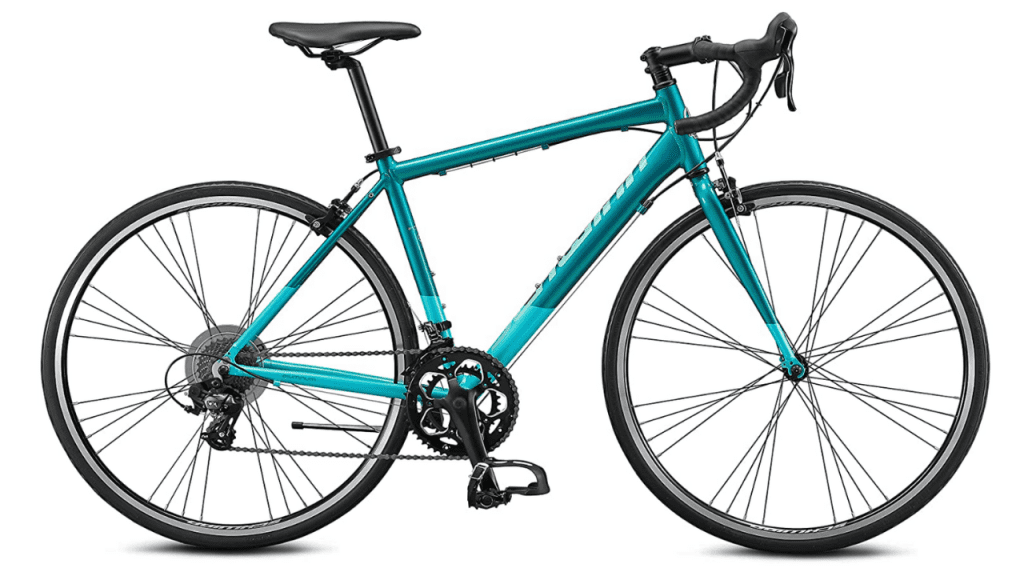 Schwinn Phocus 1600 Drop Bar Road Bicycle
#4 Best Road Bike Under 500 Dollar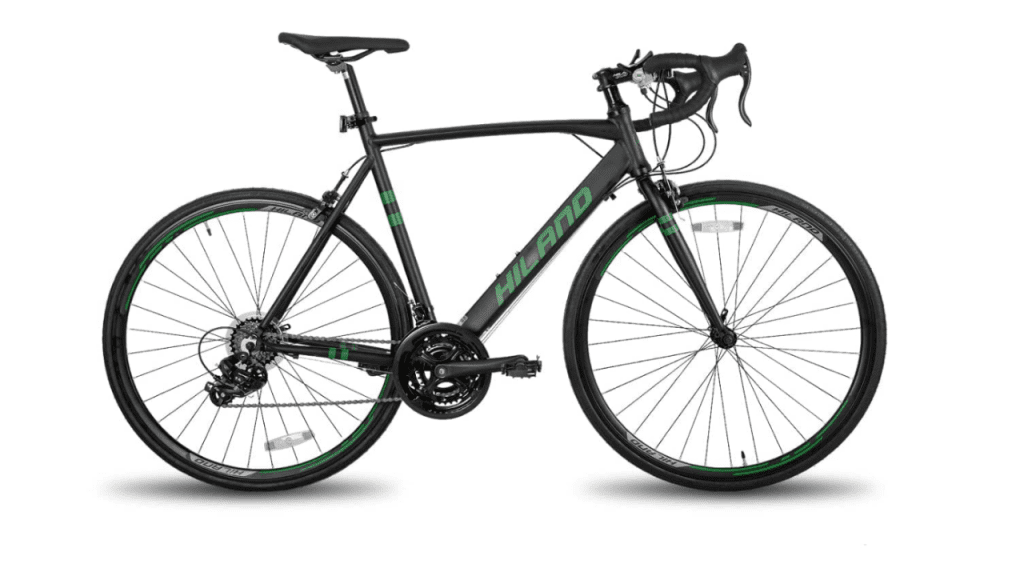 Hiland Aluminum Road Bike
#5 Best Road Bike Under 500 Dollar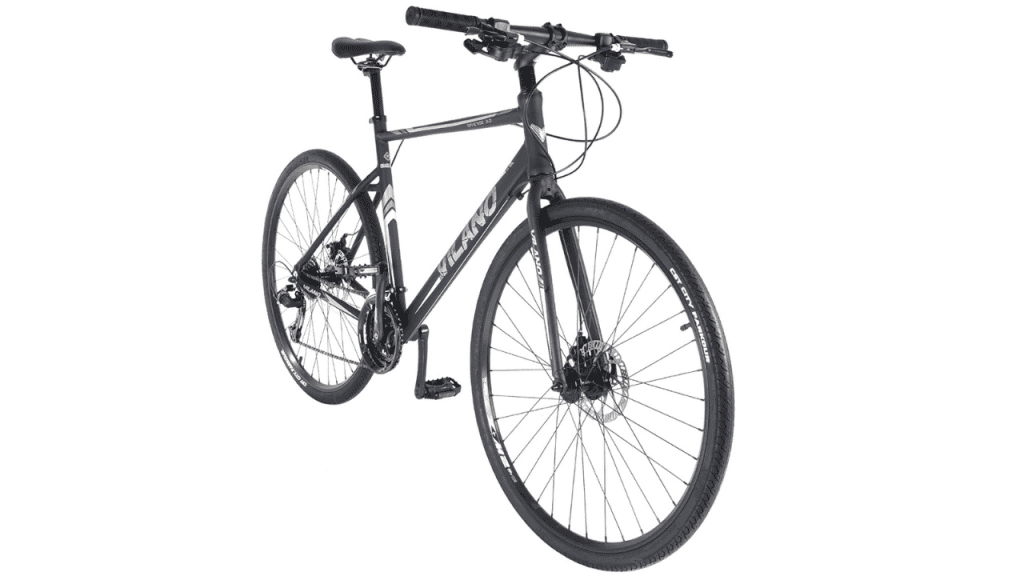 Vilano Diverse 3.0 Performance Hybrid Road Bike
#6 Best Road Bike Under 500 Dollar
Vilano Shadow 3.0 Road Bike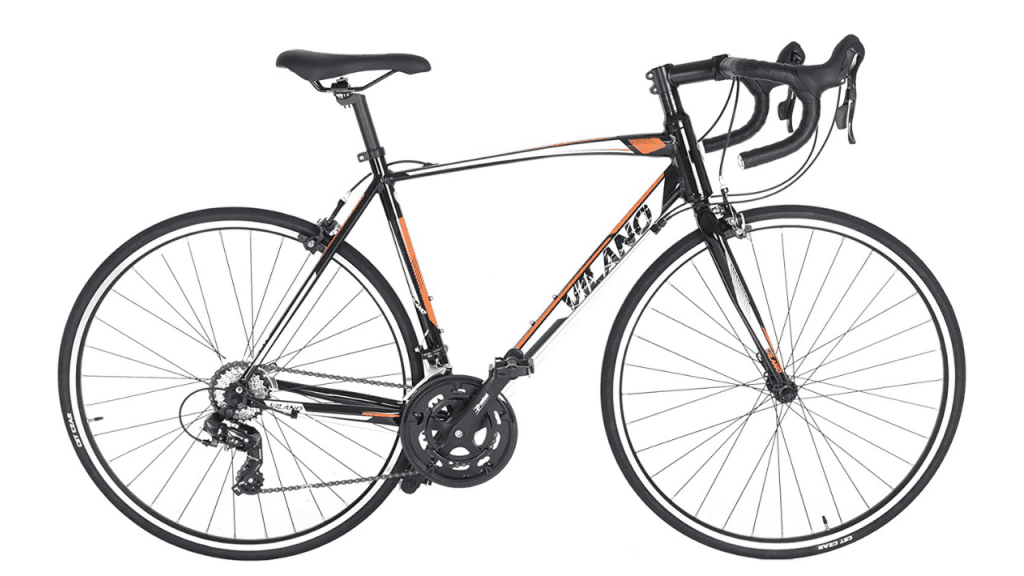 Key Features
6061 Aluminum Frame
14-speed shifter
Caliper Brakes
700c Doubled Walled CNC Machined Side, 700c tires
Our Review
The Vilano Shadow 3.0 Road Bike is a sleek, fast, and lightweight bike that handles well in most conditions. The integrated brake lever/shifters allow for easy braking and shifting in one unit designed for the road. The 6061 Double Butted Aluminum Aero Frame is both lightweight and durable. Its internal cable routing, unlike many others, enables a smooth cycling experience and makes the bike more aesthetic.
700c Doubled Walled CNC Machined Side Wheelset with 700c x 25c tires provides a smooth ride on any terrain. Caliper brakes provide reliable stopping power when you need it most without wearing down.
The users of this bike have commented that it's fairly easy to assemble
Pros
Good value for money
Easy to assemble
Light aluminum frame
Internal cable routing
Cons
Occasional reports of missing parts
Kick-stand is not included
Eurobike OBK XC550 Road Bike
Key Features
Carbon steel frame and fork
Shimano 21-speed shifter
Disc Brakes
Mag wheel option
Our Review
Eurobike EURXC550 comes with a high-carbon steel frame and fork which makes the bike sturdy, durable, and low-cost. This bike model has disc brakes which offer an enhanced braking system in wet conditions or muddy roads. It comes with a drop handlebar that helps the riders get into a more hunched-over, aerodynamic, position.
Eurobike XC550 offers two different wheel types: spooked wheels and mag wheels. Although mag wheels have a more elegant look our recommendation is for you to proceed with spoked wheels as mag wheels tend to be heavier.
This bike model comes about 80% assembled and many riders have indicated that it's easy to assemble.
Pros
Durable frame
Easy to assemble
Strong brake system
Good customer service
Cons
Occasional reports of missing parts
Not very light (39 lbs)
Vilano R2 Road Bike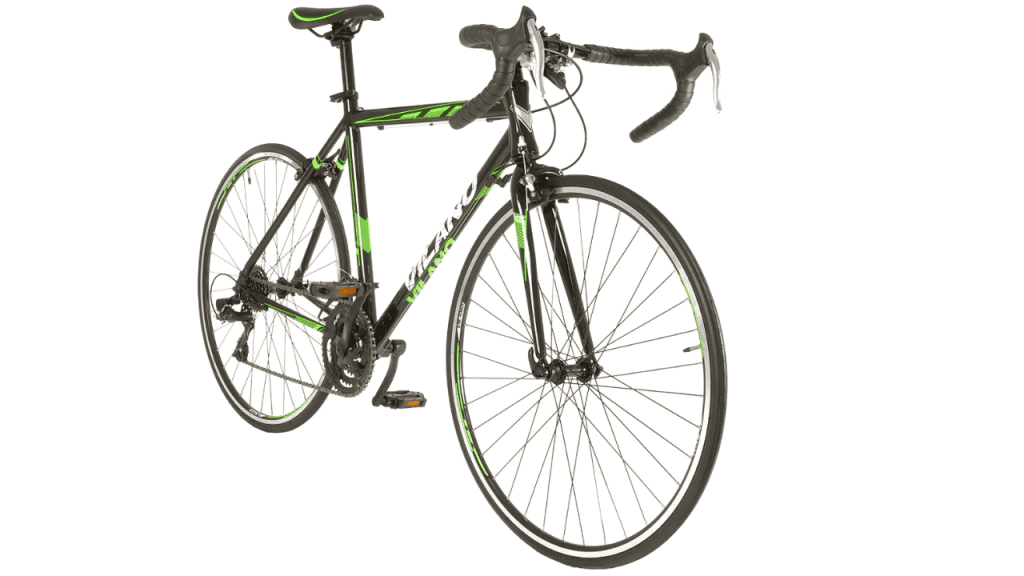 Key Features
6061 Aluminum Frame
21 Speed Drivetrain
700c x 25c wheels
Drop Handlebar
Our Review
Vilano R2 is our top pick on the best road bikes under $500 list. This bike model offers great value for money and we believe it is a great bike for beginner-level riders. This bike model comes with a 6061 aluminum frame and drop handlebar which makes it light and suitable for fast bike riding experiences.
It also features a water bottle cage which makes it a good bike for riders planning to cycle long hours. It has thumb shifters which makes it easier to adjust the gears according to the difficulty of the bike trail that you are at. This bike model comes partially assembled and is relatively easy to have fully assembled.
Pros
Good value for money
Good fit for beginners
Easy to assemble
Cons
Tires wear out quickly
Not the best customer service
Schwinn Phocus 1600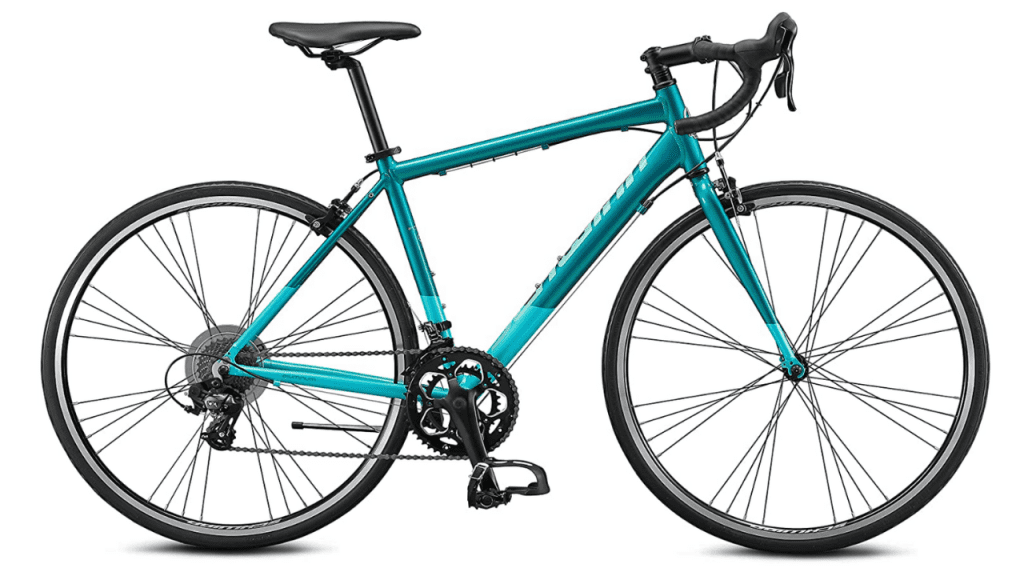 Key Features
6061 Aluminum Frame
21 Speed Drivetrain
700c x 25c wheels
Drop Handlebar
Our Review
Another bike that's on our best road bikes under $500 list is Schwinn Phocus. This bike model comes with an aluminum frame and is rigid which enables quick agile riding. Its alloy caliper road brakes ensure strong braking power. This bike model is easy to assemble. Many owners found Schwinn Phocus to be solid and durable. This model of Schwinn can fit large bikers. Many tall riders who rode this bike reported that this bike's size was a good fit for them.
This bike model comes with 16-speed shifters, which allies riders to navigate challenging terrains. Schwinn Phocus with its dual pivot caliper brakes ensures efficient and secure braking.
Schwinn Phocus overall is a great road bike for under $300 for heavy riders thanks to its durability, size, and high-quality parts.
Pros
Weights around 30lbs and is easy to carry around
Can accommodate tall and heavy riders
Made out of durable materials
Cons
Has its shifter on the flat portion of the handlebar requiring riders to move their hands to change gears
Hiland Aluminum Road Bike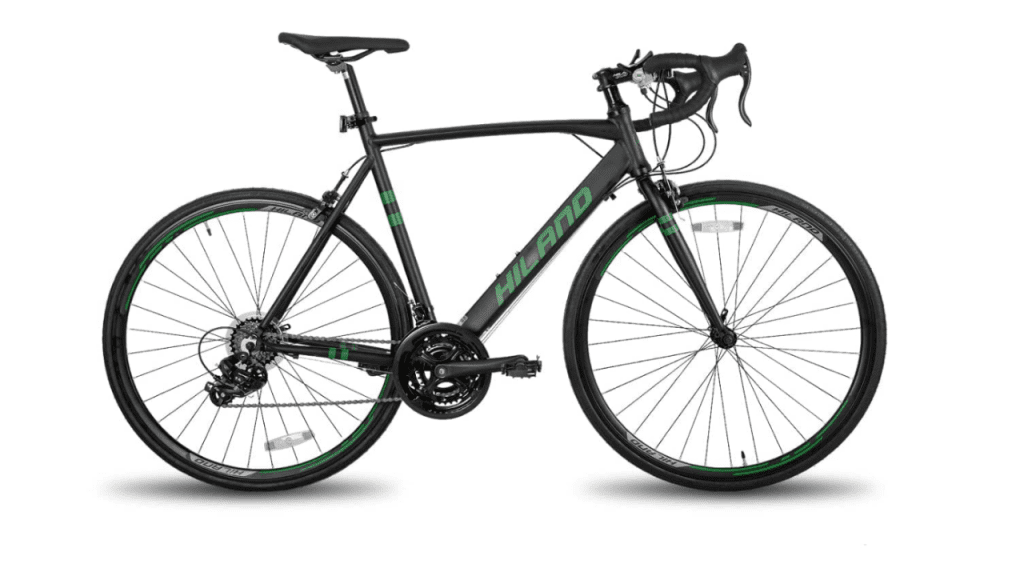 Key Features
"Hiland" Alloy Aluminum Frame
internal wire design
21 Speed Drivetrain
700c x 25c wheels
Drop Handlebar
Our Review
Hiland Aluminum bike takes its spot on our list for best road bikes under 500 dollars thanks to its light aluminum frame and its other features.
The Hiland Aluminum Road Bike is a high-quality and ultralight aluminum frame bike that offers an internal wire design. The Shimano 21-speed shifter combo with brake lever provides quick gear changes for easy riding on the road. The double wall aluminum rims ensures strong tensile force so you can adapt to your terrain with ease. Front and rear caliper brakes deliver superior stopping power and speed control, while the seat post suspension system absorbs shock from bumpy roads and trails. This bike is 85% pre-assembled, requiring only minimal assembly.
We as the Cyclesimply team liked the design of this bike. If I were to buy this bike I would for sure go with the green option.
Pros
Suitable for beginners and professionals
Estatic design
Light aluminum frame
Cons
Limited sizes
Some users reported challenges with the assembly process
Vilano Diverse 3.0 Performance Hybrid Road Bike 24 Speed Disc Brakes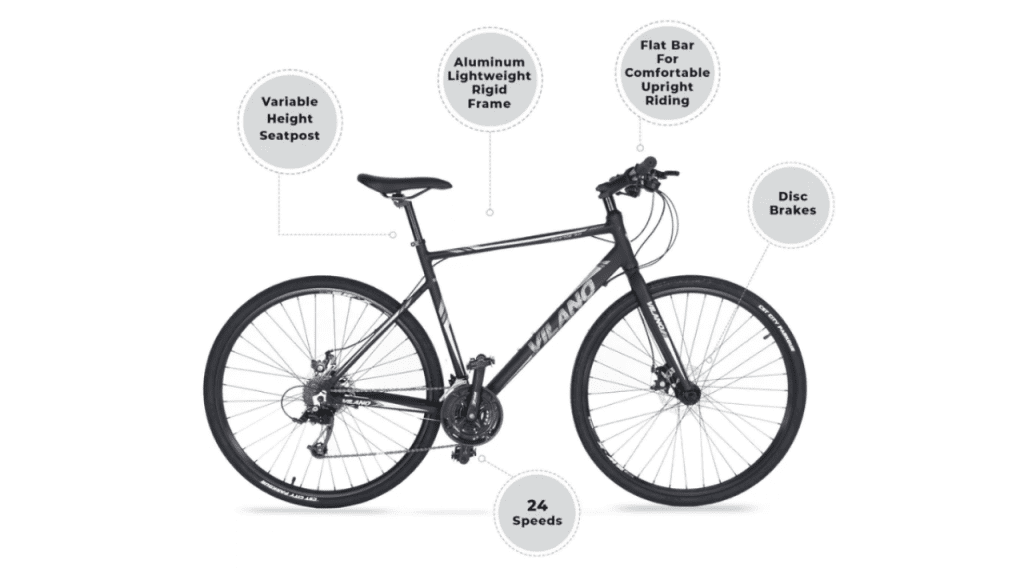 Key Features
19.3/ 20.8/22.4 inch alloy frame
24 speed
700C wheels
Disk brakes
Weighs 26.5 lbs
Our top pick for the best hybrid/road bike for value under $500 is Vilano Diverse 3.0 Performance Hybrid Road Bike. Vilano Diverse is one of the top seller hybrid bikes listed on Amazon. This bike model is the lightest model on our list making it a great fit for not only commuting but also for working out as well. The disc brakes provide control and stopping power in several conditions and its upright handlebar provides comfort to its riders.
This bike model is being shipped directly from the manufacturer and assembling (like the other bike models we have listed) is not easy. If you decide to go with this bike we would strongly suggest you visit your local bike shop to ensure that the bike is fine-tuned.
Pros
Aluminum lightweight rigid frame
Variable height seat post
24 speeds
Flat bar
Disc brakes
Cons
Relatively complicated assembly
Buying guide for best road bikes under $500
Material
It's important to pay attention to the material of the frame when picking the best road bike under $500.
When it comes to choosing a road bike, the material of the frame plays an important role in determining the overall weight, strength, and ride quality of the bike.
Aluminum is a popular choice for road bikes because it is affordable and lightweight. However, it is not as durable as other materials such as carbon fiber or steel.
Carbon fiber is a lightweight and strong option, but also tends to be more expensive.
Steel frames offer excellent durability and a comfortable ride, but can also be heavier.
Ultimately, the best material for your road bike will depend on your budget and riding style. It's always a good idea to test out different materials before making your final decision.No matter what material you choose, regular maintenance is key for keeping your road bike in top shape for years to come.
Wheels
Most road bikes come with 700C wheels. 700 is kind of a standardized measurement that roughly refers to the diameter from the center of the wheel to the outer part of the tire.
In reality, the outer diameter will vary depending on the width and type of tire you are looking at. The inner diameter, also known as the Bead Seat Diameter, of 700C wheels is 622 mm.
A major component to pay attention to is the rims on your wheels. Shallow rims and deep rims come with their own sets of advantages and disadvantages.
Shallow Rims vs Deep Rims
Shallow rims (<40mm) are better in terms of keeping the weight down. A more lightweight set of wheels typically means easier acceleration. Another way to keep the weight down is having fewer spokes.
Deep rims (>40mm) offer a harsher ride than shallow rims, which tend to make for smoother rides. This is because deep rims require more material than shallow rims.
However, deep rims are more aerodynamic than shallow rims. This basically means they do a good job of reducing drag (resistance) to help you accelerate faster.
An important drawback to deeper rims is that they can be more difficult to control if you are getting a lot of wind from the side. Deeper rims also make your wheels heavier, which is not ideal for speed purposes.
If you are not purchasing your road bike to enter professional track races, 25-40 mm rims will probably be ideal for you. Shallow rims do offer a greater advantage when it comes to comfort and weight. This makes them a better option for everyday use.
If you intend to get large tires, however, you might have to go for deeper rims that will better accommodate large tires.
Handlebar
Most road bikes come with drop handlebars, which put the rider in a crouched riding position while also allowing for some variation in the placement of hands.
Drop handlebars are designed to improve the aerodynamics of your riding position. This means reduced drag and improved efficiency.
Now let's talk about how to pick the ideal handlebar width for you. Handlebar width is typically measured as the distance between the two drops centers. The most common handlebar widths you'll see on the market are 36, 38, 40, 42, and 44 cm.
A good starting point for how wide your handlebar should be is the width of your shoulders. However, there are other factors to pay attention to.
Wide Handle Bar vs Narrow Handle Bar
Narrow handlebars are typically more comfortable and better suited for beginners. That's because they are more stable and easier to manage. This means they are especially useful on rough terrain in terms of helping the rider feel more in control.
Sometimes using a narrow handlebar can cause fatigue or tension in the upper body (specifically in the shoulders, neck, and hands). If that's the case, switching to a broader handlebar helps relieve that tension.
Narrow handlebars are better for speed compared to wide handlebars. If you are an experienced rider who is looking to achieve higher speeds or your grip is just naturally narrow, then a handlebar on the narrow side might be a better option for you.
If you are a novice rider who wants to feel in control or if you are looking to navigate some rough terrain on your road bike, then we would recommend a wide handlebar.
Brakes
When it comes to brakes on a road bike, there are two main options available: disc brakes and rim brakes. Each type has its own advantages and disadvantages.
Rim brakes, also known as caliper brakes, are the most common type found on road bikes. Rim brakes are more lightweight and aerodynamic than disc brakes. They are also easier to repair. They offer good stopping power in dry conditions but can struggle in wet or muddy conditions. Rim brakes can also wear out more over time and start to perform inconsistently.
Disc brakes, on the other hand, offer more consistent braking regardless of the conditions but can add weight to the bike and require special hubs for mounting.
It's important to consider your riding style and the environment when making a choice. Do you frequently ride in wet and muddy areas? Are you looking for added weight on your bike? Answering these questions can help guide your decision when choosing which type of brake is best for you.
FAQ
How does a road bike compare with a hybrid bike?
A road bike and a hybrid bike may initially seem fairly similar. However, upon closer examination, there are several key differences. A road bike typically has thinner tires, which allow for a smoother ride on pavement but can make for a bumpier journey on rough terrains like gravel paths or dirt roads. In contrast, a hybrid bike has thicker tires that offer more stability and shock absorption on uneven surfaces. Additionally, a road bike's handlebars are positioned lower, promoting an aerodynamic posture for pedaling at high speeds. Hybrid bikes have higher handlebars, providing a more relaxed and upright position while riding. Ultimately, whether you prefer the smooth efficiency of a road bike or the versatility and comfort of a hybrid will depend on your preferred riding terrain and style.
How do cheap road bikes compare to more expensive road bikes?
When it comes to road bikes, the old adage "you get what you pay for" definitely applies. Generally speaking, cheaper road bikes under 500 dollars will have lower quality materials and components, resulting in a heavier bike that is less durable and doesn't perform as well. More expensive road bikes, on the other hand, are typically made with higher-grade materials and have better components such as gears and brakes. In addition, higher-end road bikes often offer more customization options for fitting the bike to the rider's specific body type and needs. So while budget-friendly options may be tempting, keep in mind that investing in a higher quality, more expensive road bike can mean a better overall riding experience.
How do I find my road bike size?
When it comes to buying a road bike, one of the most important factors to consider is size. A bike that is too small or too big can not only be uncomfortable, but it can also lead to injury. Luckily, there are some simple ways to determine what size bike will be best for you. If you're on a budget and considering options under $500, one option is to visit a local bike store and have a fitting done by a professional. If you are buying your road bike online and can't get a professional to help you find your bike size, we would recommend using the below online bike size calculators.
The best practice would be to use all four of them and see if there's a large variance in your results as a cross-check. Click here to see our full guide on finding your bike size.
What are the different types of road bikes?
When it comes to road bikes, there are nearly endless options and variations to choose from. One of the most common types is the racing bike, designed for speed and efficiency on flat, paved surfaces. These bikes often have dropped handlebars, allowing riders to tuck themselves into a streamlined position. On the other hand, touring bikes are built for long-distance riding on a variety of terrain. They tend to have a more relaxed frame geometry, a lower gear range, and added mounts for attaching racks and panniers. Another option is the endurance bike, which combines features from both racing and touring bikes to provide comfort without sacrificing performance. No matter what type of road biking you're looking for, there's certainly a bike out there to suit your needs.
What is a good average speed of a road bike?
When it comes to road biking, there is no one-size-fits-all answer for an "average" speed. A variety of factors can impact how fast a bike rider goes, including the terrain they are cycling on, their fitness level, and the type of bike they are using. However, a general rule of thumb is that the average road biker will maintain a speed of around 15-16 mph on flat ground. Of course, professional cyclists or highly trained individuals may be able to reach speeds over 20 mph while participating in races or competitions. Ultimately, it's important to remember that both beginners and experienced riders can enjoy the joys of road biking at any speed. As long as you challenge yourself and have fun, any pace can be considered "average."
Our Verdict
We hope that this article has offered you the information you need to tell a great road bike from an okay one as well as it provided you with some good options.
As you can see, there are plenty of great road bikes available in the market even when you are trying to stay under $500 dollars. Our top pick is Vilano Shadow thanks to its light but durable frame, integrated shifters, and internal cable routing. If you agree with us on our top pick for the best road bike under $500, you can purchase this model by clicking here.
If you are looking for a hybrid bike instead of a road bike please make sure to check our article best hybrid bikes under $500.
Feel free to reach out to me at ali@cyclesimply.com is you have any questions or comments! Happy cycling.