After scouring the online marketplaces for bikes and looking at the reviews of hundreds of bikers we found the Outroad 21-speed Road Bike to be the best road bike under $200.
Needless to say, shopping for a road bike on a budget can be extremely difficult. Road bikes are specialized performance bikes and they typically come with a price tag reflective of that.
However, if you want to purchase a road bike under $200 you are not totally out of options. In this article, we go into detail on our top 2 picks for the best road bikes under $200.
We have crowned the Outroad 21-speed Road Bike the best road bike under $200 because of its lightweight yet sturdy frame, anti-slip tires and seamless gear shifting. It additionally comes with a steel fork and dual suspension which make for a smoother ride.
We picked out a seperate road bike under $200 for those who wish to commute on their bike as well.
Keep on reading to see our full reviews on both!
Best Road Bikes Under $200
Best Road Bike Under $200: Outroad 21-speed Road Bike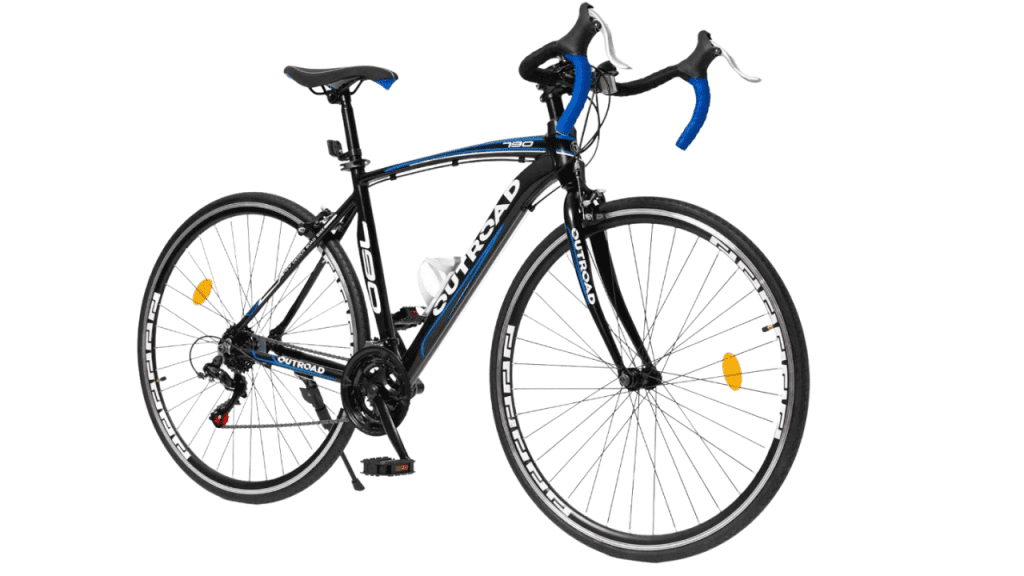 Key Features
Aluminum frame with steel road fork
700C wheels
21-speed grip shifters
Dual suspension
Recommended for riders 5'3″-6'0″ weighing up to 330 lbs
Our Review
The best road bike under $200 on our list is the Outroad 21-speed Road Bike. The aluminum frame is durable and lightweight, which is good for acceleration purposes.
The bike comes with a steel road fork and dual suspension, which absorbs small bumps along the way and makes for more comfortable rides. The 21-speed grip shifters are convenient to use and offer smooth gear shifts.
This bike is pretty ideal for urban rides as well as covering long distances. The anti-slip tires are nice to have for commuting purposes. If you will be on this bike for a long time you might be better off replacing the saddle though since it's pretty hard.
The assembly of this bike is pretty straightforward and the performance is decent given the price tag. The wheel-brake setup is the opposite of the US standard (the left lever controls the rear and the right lever controls the front in this model) but if that's not a deal-breaker then this is certainly a good road bike to purchase on a budget.
Pros
Durable and lightweight aluminum frame
Steel fork and dual suspension make rides less bumpy
21-speed grip shifters offer smooth gear changes
Ergonomic handlebar and anti-slip tires
Easy assembly
Cons
Wheel brakes are inverted from the US standard. The left lever controls the rear and the right lever controls the front. This might take getting used to if you're used to the US standard which is the opposite of this setup.
Hard saddle, might have to be replaced based on preference.
Some riders reported missing components. Riders need to ensure the bike is fully functional as they assemble the bike.
Best Road Bike Under $200 for Commuting: Takara Yuugen Single Speed Flat Bar Fixie Road Bike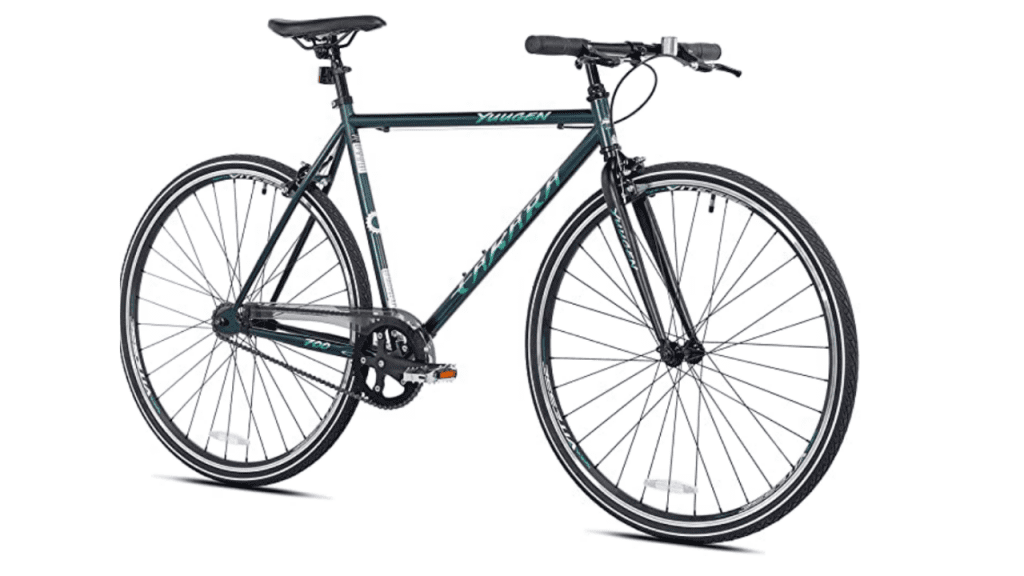 Key Features
Steel frame with steel road fork
700C wheels
Single speed
Dual suspension
Upright flat handlebar
Front and rear alloy pull brakes
Weighs 33.9 lbs
Our Review
Our pick for the best road bike under $200 for commuting is the Takara Yuugen Single Speed Road Bike. This bike is fairly lightweight at 33.9 lbs. The main advantage of that is a light bike is easier to haul up or down the stairs. And its low weight makes acceleration easier.
The steel frame is sturdy, which is an important quality in urban settings. The upright flat handlebar means you are sitting in a more relaxed and upright position compared to drop-handlebar road bikes. Apart from its comfort, an upright position also makes checking your peripheral in traffic easier.
The dual suspension makes rides less bumpy in case you encounter some small debris along the way. Additionally, the steel fork is quite tensile which also makes for a smoother ride.
This is obviously a single speed model so it won't be ideal for long uphill climbs but it should be enough for commuting purposes assuming your area is on relatively flat terrain.
This bike also comes with a flip-flop rear hub so you can ride either fixed gear or with a freewheel.
Pros
Fairly lightweight at 33.9 lbs
Durable steel frame
Steel fork and dual suspension allow for smoother rides
Upright flat bar good for comfort and checking surroundings in traffic
Flip-flop rear hub to ride fixed gear or freewheel
Cons
Single speed, not ideal for sloped terrains with long climbs
Buying Guide
Now let's get into what factors you should pay attention to when picking the best road bike for yourself.
Material
It's important to pay attention to the material of the frame when picking the best road bike under $200.
Given that $200 is a pretty low price point for a bike, the chances are the road bikes you are looking at will be made of either aluminum or steel. Carbon and titanium are more lightweight and expensive as far as materials go.
Steel and aluminum frames are both fairly durable. Steel frames are typically heavier and cheaper than aluminum frames.
One important factor to consider here is rigidity. Aluminum frames can be more stiff than steel frames, which tend to flex more.
That means steel is typically better than aluminum when it comes to absorbing bumps along the way. Aluminum is better for quick acceleration and racing purposes due to its lightweight nature and rigidity.
Ultimately the kind of material you should go for depends on why you'll be getting on the saddle and in which kinds of settings.
Wheels
Most road bikes come with 700C wheels. 700 is kind of a standardized measurement that roughly refers to the diameter from the center of the wheel to the outer part of the tire.
In reality, the outer diameter will vary depending on the width and type of tire you are looking at. The inner diameter, also known as the Bead Seat Diameter, of 700C wheels is 622 mm.
A major component to pay attention to is the rims on your wheels. Shallow rims and deep rims come with their own sets of advantages and disadvantages.
Shallow rims vs Deep Rims
Shallow rims (<40mm) are better in terms of keeping the weight down. A more lightweight set of wheels typically means easier acceleration. Another way to keep the weight down is having fewer spokes.
Deep rims (>40mm) offer a harsher ride than shallow rims, which tend to make for smoother rides. This is because deep rims require more material than shallow rims.
However, deep rims are more aerodynamic than shallow rims. This basically means they do a good job of reducing drag (resistance) to help you accelerate faster.
An important drawback to deeper rims is that they can be more difficult to control if you are getting a lot of wind from the side. Deeper rims also make your wheels heavier, which is not ideal for speeding purposes.
If you are not purchasing your road bike to enter in professional track races, 25-40 mm rims will probably be ideal for you. Shallow rims do offer greater advantage when it comes to comfort and weight. This makes them a better option for everyday use.
If you intend to get large tires, however, you might have to go for deeper rims that will better accommodate large tires.
Handlebar
Most road bikes come with drop handlebars, which put the rider in a crouched riding position while also allowing for some variation in the placement of hands.
Drop handlebars are designed to improve the aerodynamics of your riding position. This means reduced drag and improved efficiency.
Now let's talk about how to pick the ideal handlebar width for you. Handlebar width is typically measured as the distance between the two drops' centers. Most common handlebar widths you'll see on the market are 36, 38, 40, 42, 44 cm.
A good starting point for how wide your handlebar should be is the width of your shoulders. However, there are other factors to pay attention to.
Wide Handlebar vs Narrow Handlebar
Narrow handlebars are typically more comfortable and better suited for beginners. That's because they are more stable and easier to manage. This means they are especially useful on rough terrain in terms of helping the rider feel more in control.
Sometimes using a narrow handlebar can cause fatigue or tension in the upper body (specifically in shoulders, neck and hands). If that's the case, switching to a broader handlebar helps relieve that tension.
Narrow handlebars are better for speed compared to wide handlebars. If you are an experienced rider who is looking to achieve higher speeds or your grip is just naturally narrow, then a handlebar on the narrow side might be a better option for you.
If you are a novice rider who wants to feel in control or if you are looking to navigate some rough terrain on your road bike, then we would recommend a wide handlebar.
Brakes
There are two main kinds of brakes a bike can come with: rim brakes and disc brakes.
Rim brakes are more lightweight and aerodynamic than disc brakes. They are also easier to repair. However, disc brakes offer greater stopping power especially in wet weather conditions. Rim brakes can also wear out more over time and start to perform inconsistently.
If you are trying to stay under $200, the chances are you will be going for a bike with rim brakes, which tend to be cheaper than disc brakes on average.
You might also be able to find a road bike under $200 with mechanical disc brakes, which are cheaper than hydraulic disc brakes but inferior in terms of stopping power.
If you aren't buying your road bike for racing purposes, we would recommend going for disc brakes over rim brakes. That is if you can find both at your price point.
FAQ
How does a road bike compare with a hybrid bike?
Road bikes are designed to achieve high speeds whereas hybrid bikes are designed around comfort. Hybrid bikes take features from both road bikes and mountain bikes but are ultimately designed to make rides comfortable for the rider.
That's why road bikes have drop handlebars to put the rider in a crouched position and improve aerodynamics whereas hybrid bikes assume an upright riding position, where most of the rider's weight rests on the saddle.
Road bikes also tend to be more expensive than hybrid bikes. The main reason is that most road bikes are made of either carbon or titanium, unlike most hybrid bikes which are made of steel or aluminum.
Carbon and titanium are relatively lightweight materials that are more expensive than steel and aluminum. Road bikes need to be light in order to achieve high speeds easily.
How do cheap road bikes compare to more expensive road bikes?
Budget road bikes are often made of aluminum as opposed to more lightweight and expensive materials such as carbon and titanium.
Cheaper road bikes also tend to come with either rim brakes or mechanical disc brakes rather than hydraulic disc brakes, which offer superior stopping power and have a higher price tag on average.
How do I find my road bike size?
If you are buying your road bike online and can't get a professional to help you find your bike size, we would recommend using the below online bike size calculators.
Best practice would be to use all four of them and see if there's a large variance in your results as a cross check. Click here to see our full guide on finding your bike size.
Our Verdict
Having to stay under a certain price point certainly limits options. But there are decent road bikes out there that won't break the bank.
Our pick for the best road bike under $200 is the Outroad 21-speed Road Bike. We chose it because we believe it to be lightweight and sturdy bike that provides above-average performance and a comfortable riding experience.
The Outroad 21-speed Road Bike bike comes with a tensile steel fork and dual suspension which absorb small bumps and allow for smoother rides.
This bike also offers smooth gear shifts and has anti-slip tires which add to the convenience and comfort of it.
If these features appeal to you and you think this could be your next bike, you can click here to check it out on Amazon.
We hope this article helped you find your next road bike! Feel free to reach out with comments, recommendations or questions.