This is our review of the best electric bikes under 1000 dollars in 2022.
Are you looking for an electric bike on a budget? You're in luck. In recent years, there's been a boom in the number of affordable electric bikes in the market, many of which offer features that were once only found on high-end models in the past.
Based on our weeks of research we found Ancheer 26″ Electric Mountain Bike to be the best electric bike under 1000 dollars.
However, we looked into many other e-bikes and included other best electric bikes under 1000 to give you more options.
While putting this list we considered multiple factors including price, durability, battery life, and more.
Our Picks for Best Electric Bikes Under 1000 Dollars
Ancheer 26″ Electric Mountain Bike
Heybike Cityscape Electric Bike 350W Electric City Cruiser Bicycle
Jasion EB7 2.0 Electric Bike for Adults
Angotrade 26 inch Folding Electric Bike Mountain E-Bike
Swagtron Swagcycle Pro Pedal-Free App-Enabled Folding Electric Bike
---
Ancheer 26″ Electric Mountain Bike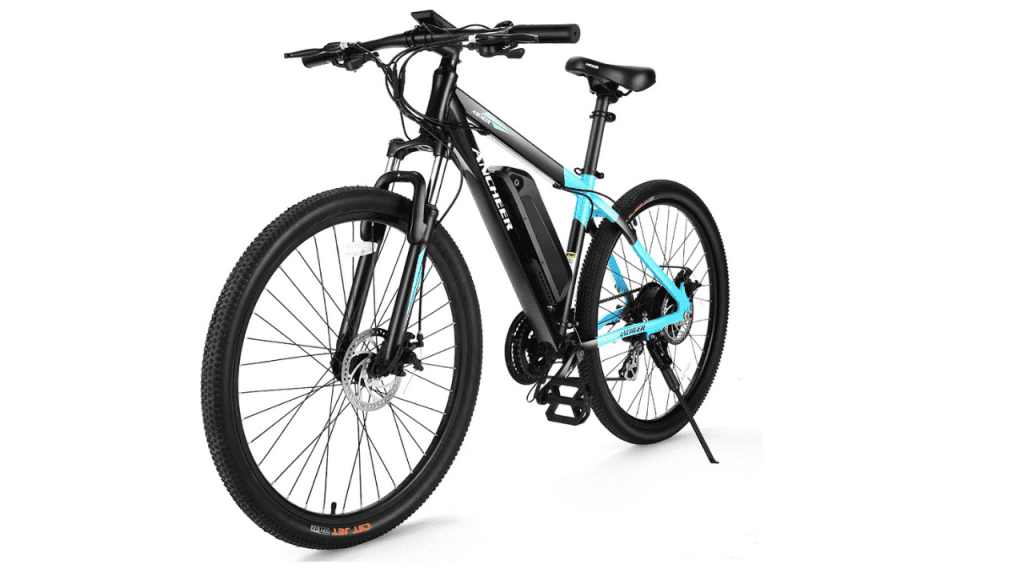 Key Features
20 mph maximum-speed
22 miles range with throttle mode
Up to 40 miles range with pedal assist
Charging time 4-6 hours
350 w regular power output
Aluminum alloy 6061 frame
21-speed derailleur
26 inch wheels
Front suspension
Front and rear disc brakes
Fits riders 5'1″ – 6'2″
Weighs 44 lbs
If you're looking for an electric mountain bike, the Ancheer 26″ Electric Mountain Bike is a great option.
Ancheer 26″ Electric Mountain Bike offers both pedal assist and thumb throttle options. With its long battery life the riders can use the pedal assist mode up to 40 miles per charge. Going upto 20 miles per hour this bike is suitable for commuting as well.
It has a strong frame and suspension, making it capable of tackling even the roughest trails. And like all good mountain bikes, it comes with a built-in headlight and taillight for safety.
This model of Ancheer is both light and sturdy with is strong carbon steel fork and steel frame. You can take its battery off when you want to make it lighter and use it as a regular mountain bike.
This 21-speed model helps you explore various tracks. Ancheer 26″ Electric Mountain Bike comes 85% assembled.
Pros
Good battery range for the price
Offers both pedal assist and tumb trottle (class 2)
Easy to assemble
Sturdy frame
Removable battery
Cons
Issues with shipment/packaging
---
Heybike Cityscape Electric Bike 350W Electric City Cruiser Bicycle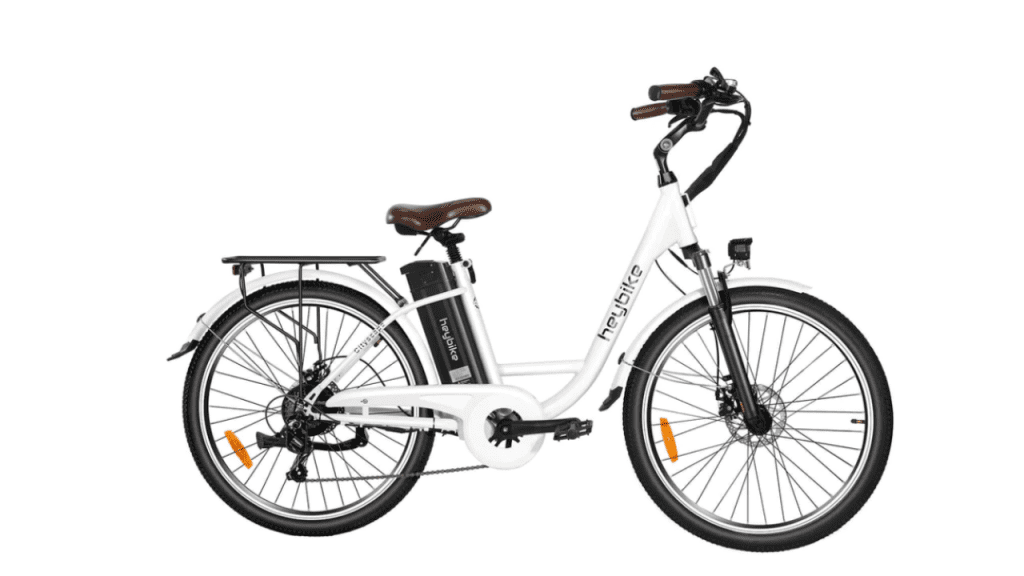 Key Features
19 mph maximum-speed
25 miles range with throttle mode
Up to 40 miles range with pedal assist
350W Brushless Geared Hub Motor
Low-step frame
Shimano 7-Speed
Dual Shock Absorber
Integrated Rear Rack
If you're looking for an electric cruiser bike under 1,000 you should definitely consider Heybike Cityscape. Per our research Heybike Cityscape is the best electric cruiser bike under 1,000 out in the market.
Its step-thru frame design makes it easier to hop on and hop off. This feature of the bike makes Heybike Cityscape suitable for elderly and people with balance problems.
Heybike Cityscape has dual shock absorber which makes this bike model suitable not only for flat roads but also for the roads with obstacles.
Its swept-back handlebar increases the ride comfort and makes the bike great for commuting.
This bike is a class 2 e-bike hence it offers both pedal assist and full throttle mode. Depending on your mood you can cycle or just use the power of the bike's battery. Its rear rack enables you to carry your belongings. This bike comes almost fully assembled and it's almost ready to go out of the box.
Pros
good battery range for the price
well packaged
Fenders to keep mud off rider
Offers both pedal assist and tumb throttle (class 2)
Easy to assemble
Removable battery
Cons
Some riders reported that they received damaged components
---
Jasion EB7 2.0 Electric Bike for Adults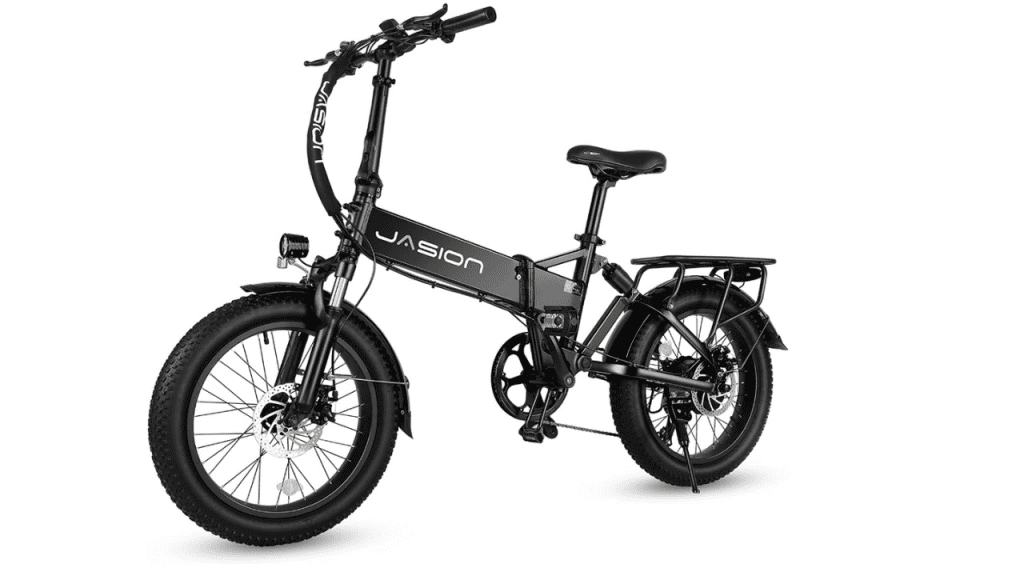 Key Features
20 mph maximum-speed
Up to 40 miles range with pedal assist
500w motor
Folding electric bike
20″ Fat Tire
Shimano 7-Speed Gear
Dual Suspension System
Integrated Rear Rack
Dual Disc Brake System
If you are looking for an electric folding bike that is compact you should check Jasion EB4 2.0 Electric Bike out. Per our research Jasion EB7 2.0 Electric Bike is the best foldable electric bike out on the market.
Jasion EB7 is perfect for daily use. The bike comes with an intuitive LCD display that shows speed, charge, pedal assist levels and travel distance. It even has a USB port for you to charge your phone while riding your bike. Its Shimano 7-speed drivetrain enables you to further customize your ride experience. Its 20″ x 3″ Puncture Resistant Fat Tire enables you to ride in sand, snow, and many other conditions.
Pros
Easy to ride
Easy to get on/off
Advanced Suspension System
USB Charging port
Compact
Resistant Fat Tires
Cons
Not comfortable for short riders
---
Angotrade 26 inch Folding Electric Bike Mountain E-Bike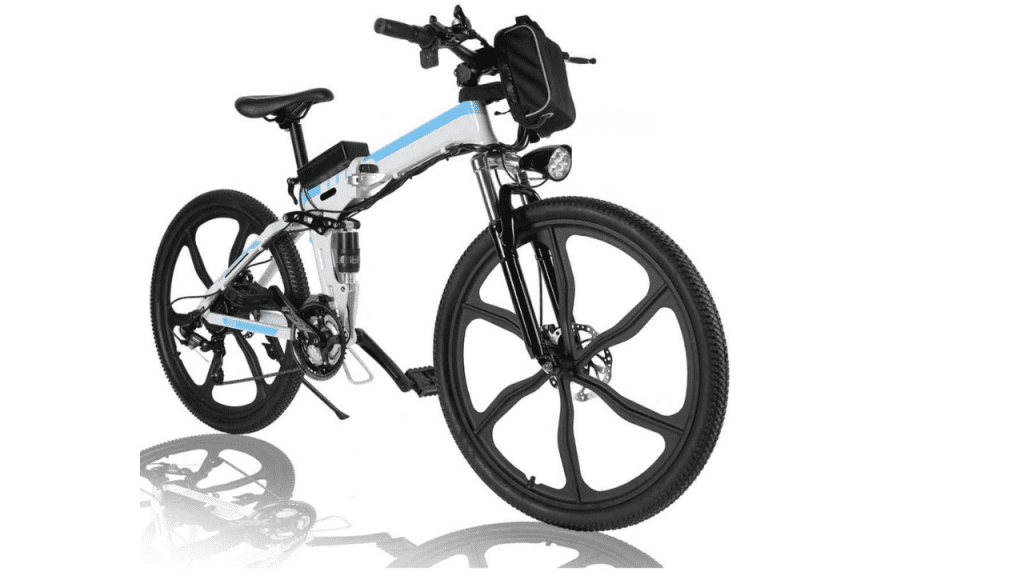 Key Features
21 mph maximum-speed
Up to 31 miles range with pedal assist
26″ wheel size
Shimano 21-Speed Gear
Front and rear mechanical disc brakes
Foldable bike
Angotrade 26 inch is a class 2 bike and you can go use full throttle, pedal assist or as if its a regular bike. It can be charged relatively fast (4 to 6 hours). Schimano 21-Speed drivetrain enables riders to ride this bike model in various conditions. Although this bike model is not very compact it can get compact as it is foldable.
Pros
Good battery range for the price
Good customer service
Low assist mode helps maintain constant speed
Easy to fold/unfold
Cons
Pedals are too close to the back tire
---
Swagtron Swagcycle Pro Pedal-Free App-Enabled Folding Electric Bike
Key Features
18 mph maximum-speed
Up to 15.5 miles range with pedal assist
3-4 hour charging time
4 Speeds
Front and rear mechanical disc brakes
The Swagcycle Pro Folding Bike is one of the most popular folding electric bikes on the market. It's lightweight and compact, making it perfect for commuting or storage. And despite its low price, it comes with a powerful motor and a long-lasting battery.
The Swagcycle Pro Folding Bike is pedal free and foldable so you can take your bike basically anywhere – school, office, etc. Using Swagcycle II app you can check battery life, speed and more.
Pros
Connected app
Foldable bike
USB port to charge your phone
Fun to ride
Cons
Not very comfortable seat
Some riders reported that the horn does not work
---
Guide to Buying a Great Electric Bike under 1000 Dollars
There are several factors that you would need to pay attention to while buying a great electric bike for under 1000 dollars. Below we listed the main ones.
E-bike Classifications
Mainly due to regulatory reasons e-bikes are classified into 3 main classes. Each of the classes is indicative of motor assistance levels.
Class 1: Motor supports only when the rider pedals and stops working when the bike reaches 20miles/hour in speed.
Class 2: Class 2 e-bikes have a motor that works up to 20miles/hour either while the rider is pedaling or with electric propulsion by itself.
Class 3: This class is solely for pedal assist. The assistance continues up to 28miles/hour.
Class 1 e-bikes are more suitable for beginners and are the most affordable electric bike class among the 3 classes. Class 1 bikes are allowed on many bike paths. Class 2 bikes are allowed at almost all locations at which class 1 is allowed. Class 3 bikes are the most powerful ones, they are great for climbing hills. The main disadvantage of class 3 bikes is that they are not allowed at many mountain bike trails.
Motor and Battery
Manufacturers while designing the e-bikes spend a significant amount of time identifying optimal power for the motor. A more powerful motor means more speed and more torque for climbing steep hills. But also more power means burning up the battery faster hence less riding range.
The capacity of the batteries is usually specified in watt-hours and motor power is specified in watts. Assuming no other loss or no pedaling a 500w motor with a 500watt hour battery will last for an hour whereas a 250 w electric motor with 500 watts hour will last for only 30 mins. Bosch has a tool that calculates the e-bike ranges for different selections: https://www.bosch-ebike.com/us/service/range-assistant/. How and where you ride your bike also impacts its range see more at https://www.rei.com/learn/expert-advice/intro-to-electric-bikes.html
Battery charging time
Battery charging time can be a critical factor to consider for riders with limited time. Many of the batteries out there will take about 3 to 5 hours to get to 100% charge level. As expected larger capacity batteries take longer to be charged. You can buy chargers that charge your battery faster as an option to decrease the battery charging time.
Number of batteries
Some e-bikes allow riders to have more than one battery. This feature enables riders to increase the range of their ride and if one of the batteries dies there is another one for backup. You can also buy one extra battery to have one ready once the other one's life gets shorter.
Battery Mounting
There are two different mounting types one of them is batteries that are integrated into the frame. This option usually creates more space for water bottles and bike bags. The other option is external batteries. External batteries are usually easier to change.
Motor Location
Electric bikes can be classified into 2 based on the location of their motors: electric bikes with hub-drive motor and electric bikes with mid-drive motor. Hub-drive motors sit inside the rear wheel. Mid-drive motors are in between two pedals and are towards the center of the bike. Hub drive motors give a sense of being pushed along whereas mid-drive motors gives a natural sense while supporting your ride. We as the cyclesimply team prefer mid-drive motors over the hub-drive motors.
Motor Torque
Motor torque is spec you should check if you are planning to use your e-bike riding uphill or carrying heavy loads. The maximum for an e-bike usually ranges from 40 N.m to 80 N.m.
Pedal Feel
Per our assessment the more natural the pedal feels the better it is. We suggest you to test ride several e-bikes and find the model that feels comfortable.
Pedal Assist Levels
Many bikes offer 3 to 4 assist levels which enables you to control how much battery you would like to use at a given moment. The more assist level there is more control you have over the contribution of electric motor over your experience.
Smart-phone Integration
Top e-bikes have mobile apps that connects to your e-bike. Via the application you can lock your bike, see the location of the bike at a given moment and check the service records of your bike.
Bike Size
Its very important that the e-bike you are buying fits your size. Many of the e-bike models out there specify the height and/or weight of the riders that e-bike is intended for.
If you find a e-bike model you liked and the model doesn't specify a height or weight range, there are bike size calculators you can find online. Here we provide a list of our top four:
For the set of instructions on how to find your bike size, check out our article.
Material
Bike frame material is one of the main features we suggest you to check when buying not only electric bikes but also any bike type. The best bikes are made out of steel, aluminum and carbon fiber.
The weight of the three materials are can be ordered as: steel (being the heaviest) , aluminum and carbon-fiber. The price points can be ordered as: carbon-fiber(being the most expensive), aluminum and steel.
Saddle
The quality specifically the size of the bike's saddle has a considerable impact on the ride comfort. If comfort is more of a priority for you than speed we would suggest you to buy an e-bike with wide, padded saddle with dual springs. If you are looking to accelerate fast compact and firm saddles are for you.
Suspension
An e-bike can have no suspension, just front suspension (also called hardtail) or dual suspension (meaning front and back suspension).
Suspension becomes very helpful when it comes to absorbing bumps. The suspension level you need depends on the kinds of trials you will be riding your bikes at. If you are expecting to ride your e-bike only on flat surfaces you may not need suspension at all.
Handlebar
There are 2 main handlebar types for e-bikes: flat handlebars and drop handlebars. Flat handlebars are more common and more comfortable. If you prioritize speed over comfort we recommend you choose an e-bike with a drop handlebar.
Tires
The type of tires you want depends on where you are planning to cycle. Fat tires are very common among electric bikes as they absorb bumps. Whereas if you are planning to ride your bike on flat surfaces and want to go fast slim tires are better.
FAQ
What is an e-bike?
An e-bike, also known as an electric bicycle, is a bicycle that is powered by an electric motor. E-bikes have become increasingly popular in recent years, as they offer a more environmentally friendly and efficient way to travel. Unlike traditional bicycles, e-bikes are equipped with a battery that can be used to power the motor, making it easier to pedal uphill or over long distances. E-bikes are also generally much quieter than gasoline-powered vehicles, making them ideal for use in urban areas. In addition to being more environmentally friendly and efficient, e-bikes can also be a lot of fun to ride. Thanks to their electric motors, e-bikes typically have enough power to reach speeds of 20 miles per hour or more, making them perfect for commuting or recreational riding.
How fast can an e-bike go?
Class 3 e-bikes have pedal assist up to 28 miles/hour. If you are going downhill and light it's likely that you can go faster than 28miles/hour.
Do I need a driving license to ride an e-bike on the roads?
E-bikes are street-legal in California and you don't need a driver's license or registration to operate one on the road. Per the law in the US riders must wear a DOT-approved helmet if they are under the age of 18 or riding a class-3 e-bike.
Are electric bikes heavier than normal bikes?
E-bikes have more components than regular bikes. These components include the battery, battery case, and motor. It's fair to expect an e-bike to be about 20 lbs heavier than a regular bike.
Why are electric bikes expensive?
E-bikes are expensive due to the technology that they carry. The minerals used to produce the batteries specifically lithium is hard to find and therefore expensive. It's not only the battery the cost contribution of the motor and display to the overall cost of the bike is significant.
How do e-bikes work?
Most electric bikes work by using a battery to power an electric motor. The motor helps to pedaling by providing additional power, and it can also be used to provide power for other features such as lights and horn.
Our Verdict
We hope this product review article provided some knowledge on how to tell a great e-bike from a mediocre one and presented you with some good options.
As you can see, there are many great e-bikes out there even when you are looking for an e-bike for under 1000 dollars. Our top pic is Ancheer 26″ Electric Mountain Bike offers a pretty good combination of comfort, performance and durability. If you concur with us on our top pick for the best electric bike under $1000, you can buy this model by clicking here.
Feel free to check out the other options we mentioned and our other articles.
Happy (electric) cycling!