Bike-sharing systems make it possible for thousands of people around the world to enjoy the joy of cycling without having to own bikes themselves every day. But what are bike-sharing systems exactly?
Bike-sharing systems are shared transport services that allow individuals to rent or borrow bikes on a short or long-term basis. These services can be free, for a fee or require the individual to leave a deposit when checking out the bike. Most bike-sharing systems have a network of docks where the user can check out and check in bikes but the exact nature of operations depend on the kind of bike-sharing system.
We have conducted hours of research to provide a thorough understanding of bike-sharing systems in this reading. We additionally complemented our research with our own experience using bike-sharing systems. In this article we will strive to explain the pros and cons, and different types of bike-sharing systems. We will also provide examples of popular bike-sharing systems in the US.
Pros of Bike-sharing Systems
Getting a feel for cycling
The obvious pro of bike-sharing systems is that they allow bikers without bikes to go cycling and hone their skills. Using these systems, one can practice, hone their skills and most importantly get a feel for biking, see if they like it, before financially committing to owning a bike.
Transportation
Bike-sharing systems can be a healthy, relatively inexpensive way of transportation in a lot of cities. You can check out a bike from a station near where you are and return it to a station in the same network near where you want to go. In a lot of instances, it's cheaper than Ubering or hailing a cab and you can easily check online how to go about it, your route and whether it's a time and cost-effective option for you using Google Maps.
Sightseeing
For a lot of tourists, exploring a new city by bike is the way to go. Renting bikes can be more convenient than renting a car because in a lot of cities, finding parking can be very difficult. Biking allows tourists to cover long distances while also looking out at new places and exploring without having to get off their bikes. You can also be more spontaneous when you don't have to plan out your transit or look for a parking spot all the time. You might of course have to look for a dock to check in your bike. However, in a lot of metropolitan cities with advanced bike-sharing networks that is actually easier to find.
Good for your health
There are countless health advantages to cycling, be it for exercise, transportation or sightseeing. These include building muscle, weight loss, benefits to your cardiovascular health and reduction in cancer risk, improving your mental health, strengthening your immune system and enhancing your joint mobility. But the list doesn't stop there! For a more comprehensive list of benefits of cycling, head on over to our article titled: "13 Benefits of Cycling". Regardless, it should come as no surprise that a more active life-style results in a healthier mind and body. Bike-sharing systems allow people without bikes to benefit from such a life-style.
No Commitment
The good thing about renting a bike for a short or long-term is that you don't have to worry about getting rid of it if you feel it isn't the best fit for you or you grow to dislike it. Not to mention bike-sharing systems eliminate concerns about storage. You also don't have to find a way of transporting it to a different city if you end up moving.
Cons of Bike-sharing Systems
Liability
When you borrow a bike from a bike-sharing system, you are essentially taking the liability of the bike upon yourself. If you return the bike damaged you will likely have to cover the costs of getting it fixed. These might include minor damages you wouldn't have necessarily gotten fixed on a bike you own.
You might also lose it or get it stolen. According to the Citi Bike Help section: "…bikes that are missing for longer than 24 hours can result in a $1,200 fee (plus tax) charged to the account holder that took out the bike.". You can own a bike for much lower than that. This is of course the worst-case scenario. It still helps to keep in mind the bike is your personal responsibility once you check it out until you return it. If you are not careful with it, your cycling experience might result in a hefty charge.
Fees
There are typically fees involved with bike-sharing systems. Depending on the bike-share system, you may have to pay a flat or variable fee to rent the bike. There are two types of potential fees: membership and usage. Some bike shares require you to be a member of their program if you want to rent out their bikes. This typically entails a monthly or yearly subscription fee. If you're not a member, you can also purchase shorter-term passes. And then you may have to pay a flat or hourly/daily/monthly rate, or a combination of the two just to rent the bike. These fees add up and might make owning a bike a more economic option depending on how frequently you go cycling.
Looking for Docks/Stations
An inconvenience with bike shares is that it can be a pain to find a station near where you want to go. With most bike share systems, you need to return the bike to a station that belongs to the same network. There might not be a station close to your destination or an available dock at the station you want to return your bike to. That means you might have to leave your bike at a station that's not that close and walk to get there or use some other form of transportation.
Bring a Helmet
Helmets are usually not provided with bike share systems and they are vital. Using a helmet reduces the dangers involved with bike accidents and it's important to wear them even if you're in a state that does not legally require you to do so. That means you would have to bring your own helmet if you're going to utilize bike share systems. You would have to invest in a helmet even if you were riding your own bike so this shouldn't discourage you from using bike share systems. However, it is something to be mindful of for your own safety.
Different Kinds of Bike-sharing Systems
Staffed Stations/ Zero Generation
As is implied by the name, these stations are not automated and instead operated by employees or volunteers. From these stations, people can borrow or rent bikes on a short or long-term basis. Some of these systems are free and others require the user to pay a fee or leave a deposit. The bikes are returned to the same location where they were initially rented or a different station that belongs to the same network. The time frame for these rentals can range from a number of hours (short-term check out) to multiple months (long-term checkout).
Long-term checkout systems are also known as bike libraries since the user can check out a bike from these stations, similar to checking out a book from a library, take on the liability of keeping the bike safe and in good condition and potentially keep the bike for months depending on the time frame specified. The good thing about long-term checkout systems is that the user has an incentive to keep it in good condition, as they will be using it for a long time.
White Bikes/ 1st Generation
White bikes are free shared bikes meant for the use of the public in a certain city or area. This bike share system doesn't have stations. The bikes are left out in the open and anyone in the area can use it and then leave it at their destination. A limitation is that sometimes white bikes are only meant for use within certain boundaries. An example of that is university campuses. White bikes are also credited for being the earliest example of bike-sharing systems.
According to an article titled: "Bike sharing systems" on campfirecycling.com, bike-sharing originated in Amsterdam in the 1960s when Luud Schimmelprennic and his friends gathered some bikes, painted them white and left them around the city. Unfortunately the problem with white bikes is that they are vulnerable to vandalization and theft, and most of the bikes provided by Luud and his friends were either confiscated or stolen. White bikes today are mostly operational thanks to volunteers and municipalities.
Coin Deposit Stations/ 2nd Generation
These bike systems utilize coin deposit to locks to protect bikes from theft. Once you insert a coin to the lock, the bike becomes available for your use and you check it out from the station. Once you return the bike to its station you can retrieve your coin. This is a low tech system and doesn't track the bikes or the individuals who ride them. This means the bikes might still be vandalized or stolen. However, the singular and recognizable designs of these bikes do deter theft to some degree. An example of this system is the Aarhus Bycykel in Aarhus, Denmark.
Automated Stations/ 3rd Generation
3rd generation bike-sharing systems have docks or docking stations where people can borrow or rent bikes after identifying themselves via their membership cards, smart cards, cell phones or other methods. Bikes not in use are locked at these stations. They are released by computer control, hence the name "automated". These bikes tend to be more expensive to produce due to its high-tech nature. On the other hand, this system does reduce vandalism and theft since it requires the user to identify themselves in a system. It also eliminates labor costs that would be required to staff docks for zero generation bikes. First automated stations were set up by the University of Portsmouth in 1996. The students used magnetic cards to gain access to the bikes.
Dockless Bikes/ 4th Generation
These bikes have locking systems attached to their frames, hence making docks unnecessary. They are unlocked via SMS, phone call and/or smart phone apps. Since these systems don't have docks or stations, the users find available bikes using GPS. Dockless bikes are especially popular in China where over 30 private companies operate these systems. Two such operators, Ofo and Mobike are among the world's largest with millions of bikes in over 100 cities. Another example is Call a Bike launched by Deutsche Bahn in 2000. DB has a smart phone app that allows users to efficiently gain access to these bikes. Their system provides access to 13,000 bikes spread out in 50 cities in Germany.
Bike-sharing Systems in the US
Citi Bike (New York City)
Provided by lyft and boasting the nation's largest bike share program, Citi Bike provides access to 20,000 bikes across Manhattan, Brookly, Queens, the Bronx and Jersey City. In order to ride a Citi Bike, the user needs to either be an annual member or purchase a pass through the program's smart phone app.
For a ride lasting no longer than 30 minutes, the user can get a single ride pass for $3.50. A one-day pass, on the other hand, costs $15. This pass makes the first 30 minutes of each ride on a classic bike free. The holder of this pass can get as many rides out of it as he/she likes without having to pay anything extra as long as the rides are under 30 minutes. If your ride exceeds 30 minutes on this plan, each additional 15 minutes cost $4. An annual membership can be obtained for a price of $15/month ($179 billed upfront annually). The membership allows the user to ride the first 45 minutes of each trip on a classic bike for free among other perks. After 45 minutes, each additional minute costs $0.12 until the bike is returned to a station.
Riders can use the Citi Bike app to locate available bikes and stations nearby. They can also find out the number of open docks at those stations on the app. The good thing about Citi Bike is that it has over 1000 stations all over the city. However, it can still be a challenge sometimes to find an open dock in the exact station you want to return your bike to if it's a busy one. For additional information and details regarding Citi Bike, go to https://account.citibikenyc.com/access-plans.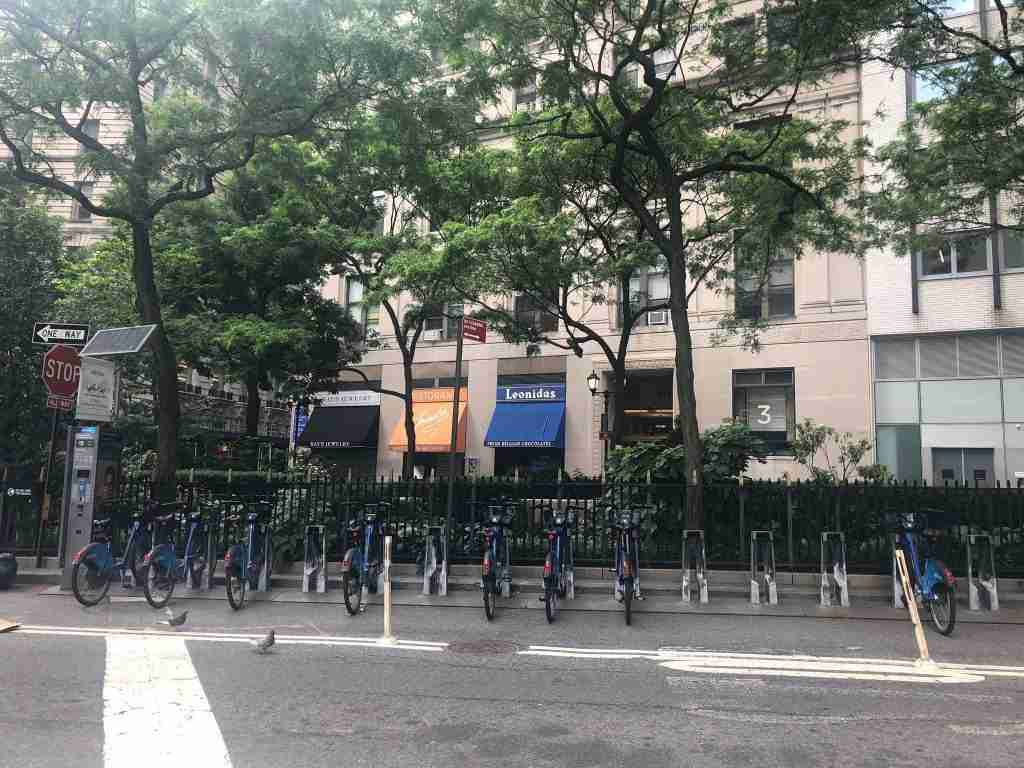 Capital Bikeshare (Washington D.C.)
Capital Bikeshare has a similar pricing structure to Citi Bike but has more options. Capital Bikeshare offers the following passes: Single Trip, 24-hour pass, annual membership, 3-day pass and 30-day membership. The single trip pass costs $2. With a single trip pass, you can ride a classic bike free for the first 30 minutes. The 24-hour pass costs $8/day, which allows for unlimited classic bike rides under 30 minutes for the day. See image below for additional pricing info if the ride exceeds 30 minutes. (The same additional fees apply for the single ride pass if your ride exceeds 30 minutes.) The 3-day pass is essentially the 3-day version of the 24-hour pass and costs $17.The annual membership, on the other hand, is priced at $7/ month ($85 billed upfront annually) and offers unlimited 30-minute rides on classic bikes. Longer rides (30-59 min) cost an additional $1.50 with the membership. Capital Bikeshare provides access to 4,500 bikes and has over 500 stations. For additional information and details regarding Capital Bikeshare, go to https://www.capitalbikeshare.com.
Source: https://www.capitalbikeshare.com/pricing/day-passes
Conclusion
Bike share systems are a great starting point for people who want to cycle more. It's also a good way to get around, be it for sightseeing or commuting. If you live in a city that is bike friendly and has an advanced bike share system, using these systems can be a very convenient way of transportation for you. It helps to check online the different passes and pricing options so you can pick the one that will be the most economical for you based on how frequently you're going to use it.